by Andru McCracken
---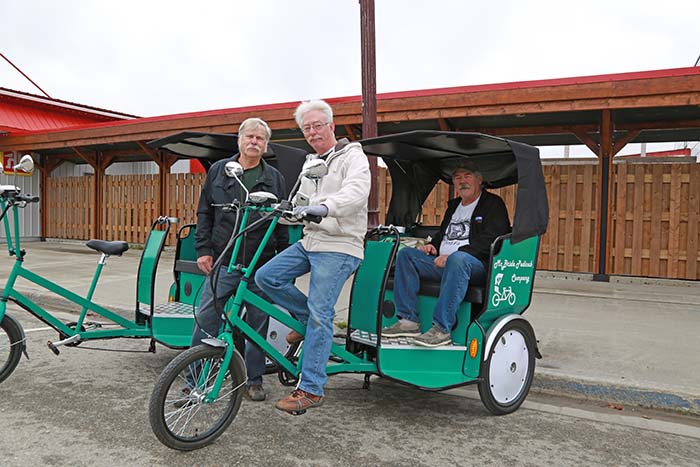 The entrepreneurial spirit is alive in McBride. Allan Frederick and Rick Thompson have developed a new venture that may help McBride's fledgling economy grow. It's called the McBride Pedicab.
"We have a lot of tourists coming in these days that arrive on the train and have nothing to do for half an hour," said Thompson. "We have a whole set of half hour tours. We can tie McBride from one end to the other with our tours."
Thompson and Frederick want to include many businesses in the pedicab tours. There is a Fryday Tour to Shops on Main for fries, and a cappuccino and candy tour to the McKale Gueshouse, but that's just the beginning.
"What's better than chinese food delivery in a rickshaw?" asked Thompson, who said they'd be working with the local Kilin Restaurant.
The pedicab can take grocery shoppers home from AG Foods, and their "Here to there" tour brings people around town.
It wasn't easy importing the pedicabs, which were made in China.
"We worked with Transport Canada, Canada Border Service Agency, Revenue Canada, ICBC … all the hoops we had to jump through to make sure they could be driven in Canada," he said.
"We're happy with them."
If you need a lift call (250) 569-7620, or find the McBride Pedicab Company on Facebook.