by Goat Staff
---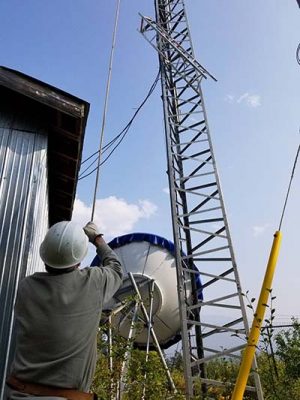 The Valemount Entertainment Society has made some much-needed repairs on their head-end equipment on 5-Mile. The antenna tower has been repaired and all radio stations and TV stations are back on the air, except Sportsnet 360.
Due to technical issues, Channels 6 and 8 were off the air for several weeks.
VES coordinator Michael Peters says the TV tower has a new upper mast, and soon CBC Radio Two (FM 95.5) will be broadcasting in stereo. Broadcast Extension Systems Technology did the work, with the techs climbing 80 feet in a safety harness to do the repairs.
The Valemount Entertainment Society is a tax-funded service that re-broadcasts eight TV channels, including a local TV channel VCTV, as well as three radio stations. The Society also produces local content via VCTV (Channel 7 analog, or 653 on Bell/Telus Satellite).