by Goat Staff
---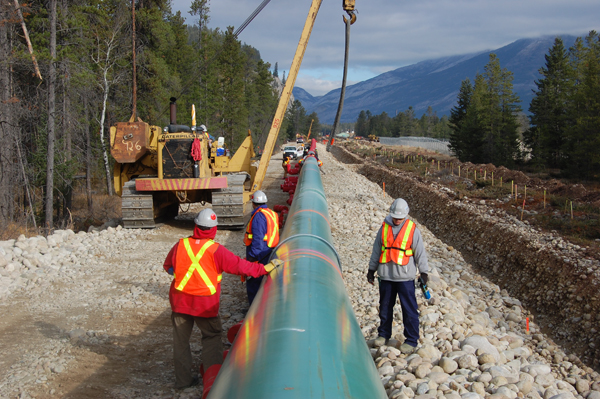 A decision made at the Federal Court of Appeal has dealt a blow to the Trans Mountain Pipeline.
Federal Court of Appeal Judge Eleanor R. Dawson said two things were wrong in the process that led to an order in council to allow the project to go ahead.
"The Order in Council's validity is challenged on two principal grounds: first, the [National Energy] Board's process and findings were so flawed that the Governor in Council could not reasonably rely on the [National Energy] Board's report; second, Canada failed to fulfil the duty to consult owed to Indigenous peoples."
The Judge concluded that Canada acted in good faith in consulting First Nations as required by the Supreme Court, but towards the end of the consultation, Canada's efforts fell short.
"Canada failed in Phase III to engage, dialogue meaningfully and grapple with the real concerns of the Indigenous applicants so as to explore possible accommodation of those concerns. The duty to consult was not adequately discharged."
The Coldwater Indian Band has raised concerns about the pipeline passing through their only drinking water supply, and Trans Mountain not addressing these concerns or re-routing the pipeline.
According to Finance Minister Bill Morneau, who negotiated a $4.5-billion deal to buy the Trans Mountain pipeline and expansion project from Kinder Morgan Inc. in May, the federal government is committed to buying and building the pipeline.
In an interview reported in the Financial Post, Morneau said this:
"This is a project that's in Canada's national interest. A project that means thousands of good, well-paying jobs for the middle class," Morneau said. "This one will be a strong, commercial project once we de-risk it. That's what we're attempting to do, so we can be in the market in the long term."
"The court has asked us to respond promptly and in a meaningful way to today's decision and has given us some good directions in next steps."
Bob Zimmer, Member of Parliament for Prince George-Peace River-Northern Rockies, said he's disappointed.
"I am extremely disappointed in the ruling made by the Federal Court of Appeal today which will only mean more legal hurdles for a project that has already undergone a lengthy approval process," said Zimmer.
"With this decision we are sending a message to potential investors that we are closed for business. Canada is one of the cleanest natural resource producers in the world with a great respect for human rights."
Lawyers from West Coast Environmental Law are part of the legal team advising the Tsleil-Waututh Nation, one of the primary parties in the consolidated judicial review.
"Today the Court confirmed what we and our allies have been saying all along – the federal environmental review of the Trans Mountain project was inadequate, and the government's consultation with Indigenous peoples affected by this project was fundamentally flawed," said Jessica Clogg, Executive Director and Senior Counsel.
For Ryan Bernicky, a pipeliner based in Valemount, the delay is unwelcome news.
He is currently conducting integrity digs for the TransCanada Pipeline three hours southeast of Thunder Bay in Ontario, and has had his family living with him during the summer.
Bernicky's work ensures that any compromise in pipe integrity is caught before it causes damage.
"What they do is send smart pigs through the pipe which collects data on corrosion," said Bernicky.
"It's a little bit of frustration and disappointment," he said. "I'm in the industry and I see how far they go with environmental protection plans, and safety."
Bernicky said he respects the environment and ocean and understands where the concerns about the pipeline are coming from.
"They have legitimate concerns and there are regulations and procedures to prevent these accidents from happening," he said.
"Having spills is not good for business."
Bernicky said Valemount could use the boost to its economy.
"In the end when we get the oil to tidewater, that benefits our economy. Everyone will benefit in my eyes."
Bernicky is also deeply interested in alternatives to oil.
"I have an interest in any kind of renewable energy. For the time being it's not practical to switch right off oil," he said.