by Andru McCracken
---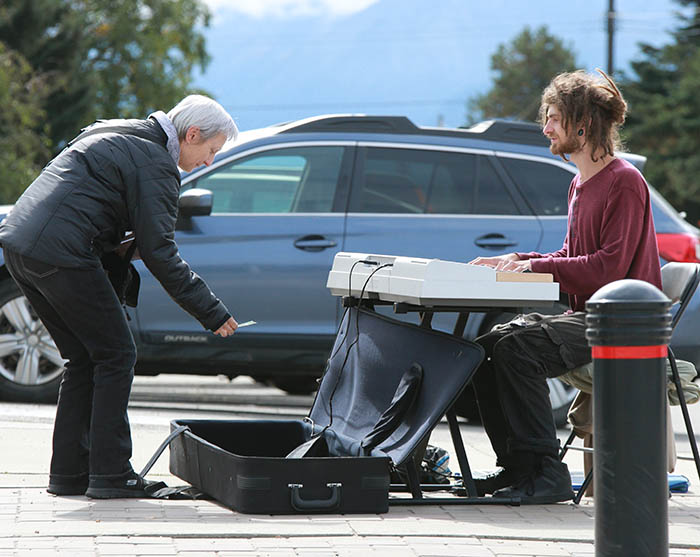 Jean Frederic stopped in Valemount one Friday in front of IGA to share his music. The 22-year-old busker is from a small town north of Montreal called Laurentides (pop. 45,000).
He powers his piano with a solar panel and small battery pack and uses the money to travel. He's been in BC since the end of June and came to Valemount last Friday.
"It's my work. I do my travel like that," he explained.
Jean Frederic said he doesn't play concerts and he prefers to busk.
"I have an accordian. I have a guitar too," he said. "But for busking, piano is best."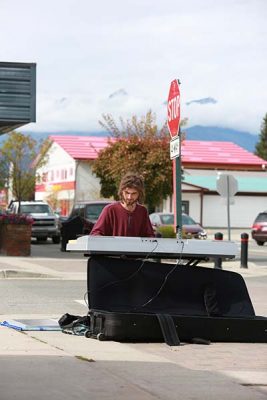 He said piano is superior because the sound carries, while guitar is overwhelmed by traffic sounds. He doesn't busk with the accordian because he is not very good at it, he laughed.
Jean Frederic might not fit the stereotype of wandering minstrel. Back in Quebec he is a forklift driver and plans to start operating heavy equipment next fall.
"In Montreal I don't do music in the street," he said. "I can, but I don't. I prefer to play for myself."
The more that people appreciate his music the quicker he leaves the town.
"When I have $100, I go," he said.
A number of people stopped to listen.
When asked how the music made him feel one man said, "Peace."