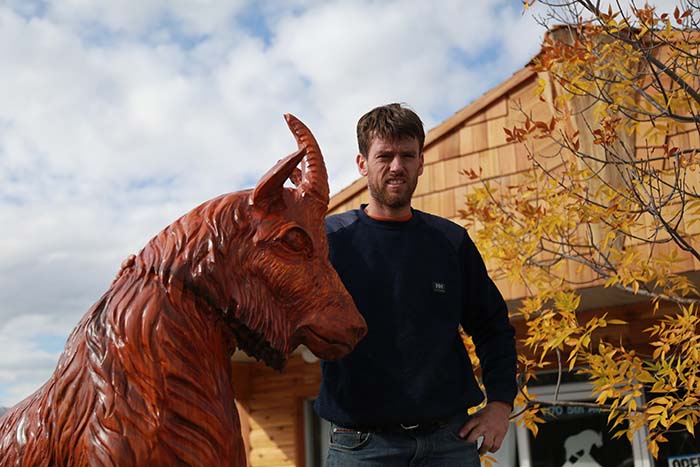 by Joseph Nusse, Guest Editorial
---
There is certainly such thing as government waste in this world. Luckily we have a program that is the exact opposite of this. The Facade Improvement Grant has been an ongoing form of incremental improvement in McBride and Valemount for years. Private commercial property owners have to match the grant money, but up to $5000 is available to split the tab on making our commercial streets more attractive.
This summer The Rocky Mountain Goat received $4500 of matched grant money. The result is now open for viewing on 5th Ave. This program is an incredible net positive contribution to the town. All of the supplies are local, or sourced at the local hardware store. The cedar shingles are locally manufactured as was the round cedar siding. Even the hardware was sourced from the local hardware store. The lifesize carving of a mountain goat came from Hope, BC. In short, in a world that seems to care little about how our small towns are faring, it is good to have a working example of a Keynesian Economic program that does not just give massive sums of money to the big banks whenever there is an economic crisis.
Further, it is nice that the program is for qualitative improvements, not to increase square footage, or install a new roof. I firmly believe that artwork, craftsmanship and fine tastes are undervalued, and it is great that this program is designed to encourage just this.
I encourage everyone to come down to the office and see what your tax money has helped build. Laura and I were happy to find the other half to make this happen. And let us hope that all commercial buildings find the effort and money to apply next year. The money multiplier on this program is incredible, and it stays local. But I want to further encourage other business owners to specifically consider adding artwork to their buildings. As long as it is on theme with what our villages have set out, we can make our town very attractive while working with the building stock we already have.
Take a stroll down that alleys of Jasper. Their commercial buildings are just as run down and poorly built as ours. But one thing every business in Jasper does is spend money and effort on the front.
Civic pride is what makes a town worth living in. I enjoy how the facade grant program encourages public ownership of the town's appearance. This program should continue into the future. There are virtually no downsides to it.