by Andru McCracken
---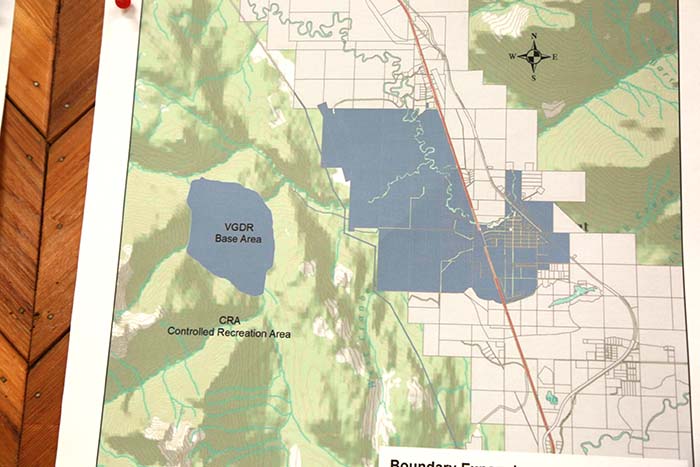 A consulting firm based in Prince George recommends that the Village of Valemount extend its boundaries via satellite expansion to include the Valemount Glacier Destination Resort in 2021 just before the resort starts increasing in value.
Dan Adamson of R. Radloff and Associates presented three options at a public meeting on Monday, August 27th.
Adamson revealed the first option to be the most expensive for taxpayers long term. Option one is not expanding the boundaries. He said spinoff development from the resort would cause greater expenditures by the village. Residents could expect to pay more as the village gets busier and is forced to increase the amount of service it provides.
Option two was to include the resort area using a satellite expansion. Only the resort area would become a part of the village and not the properties located between the existing Village and the resort.
The third option was to include the resort and a contiguous area between it and the village. In this option, residents now served by the regional district could expect to pay more in taxes to the village, at least in the short term.
After Adamson's subsequent presentation to council Mayor Jeannette Townsend agreed with Adamson.
"Option two is the safest way for us to grow, not immediately but when construction has commenced, so there is no significant risk to the village," she said.
Adamson explained at length how including the resort would include new valuable homes and businesses built there and they would bear the brunt of taxes. Adamson predicted that, over the long term, Option 2 would cause taxes to decrease.
"It is clear, based on the information provided by Valemount Glacier Destination Resort, and the assessed property value increase over time and the method by which tax rates are applied, that added costs can be addressed through annexing the resort base area," said Adamson.
"We did show that in the short-term (until around 2023) there may be tax rates adjusted upward to address the higher municipal costs until the assessed property values increase to a threshold."