by Andru McCracken
---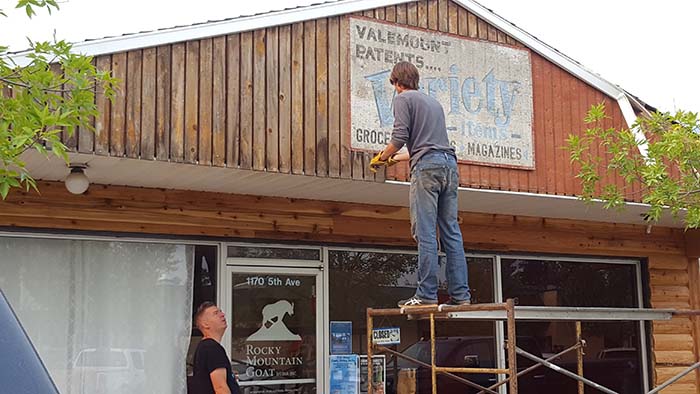 A renovation of the Rocky Mountain Goat Newspaper's facade brought a flood of memories back when vinyl siding came off. Beneath the aging siding was a sign for Valemount Patents, a variety store run by Vi Cramp.
The building, known to many as the Stedmans building at 1170 5th Avenue and now the office of the Rocky Mountain Goat Media Inc, was built by Art Cramp.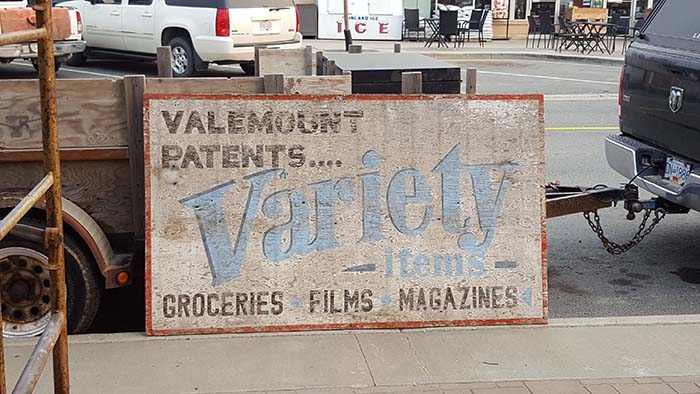 According to the Valemount Museum:
"The Valemount Patents was first operated out of the old Bill Atkins home. The Atkins' left the home in 1957
and it was rented out. Art and Violet Cramp lived in the home and then purchased the Valemount Patents store from Bob Dowling of Jasper in 1968. In 1970, they built the new Valemount Patents situated on the corner of 5th and Cedar (that became Stedmans in 1984)."
As soon as the sign came down, passers by offered to purchase it, but Joseph Nusse, who was renovating the property said he would bring it to Debbie Tinsley, the daughter of the former owners. Ultimately it ended up with Zahna Tinsley who fondly remembers going to the store as a child.