by Andru McCracken
---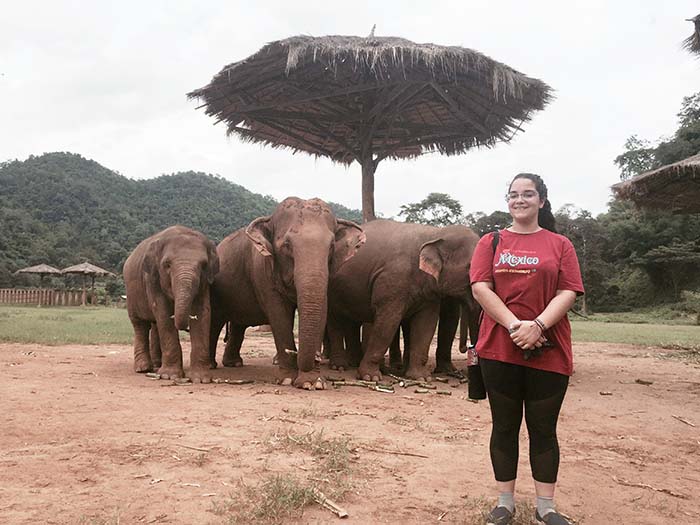 This summer, Brooklyn Basran, spent two weeks in Thailand helping animals and learning hands-on what it's like to be a veterinarian. The 17-year-old McBride resident travelled with the study-abroad organization Loop Abroad. Basran was part of a small team that volunteered giving care at a dog shelter and spent a week working directly with rescued elephants at an elephant sanctuary.
Basran said she had the rare privilege of spending quality time with the beasts.
"One day we got to spend a full day with an elephant," said Basran. "We just sat with them for 8 hours. They are really majestic."
Basran's elephant was 75 years old and had come from a very hard life of logging.
"All the older elephants come from logging which is now illegal. They have been treated badly," she said.
Basran said some of the elephants were aggressive and kept on the opposite side of the river. Interactions with those elephants were only safe when their handler, called a mahout, was present.
The Veterinary Service program brings students to Thailand for two weeks to volunteer alongside veterinarians from the US and Thailand. For one week, Brooklyn and her team volunteered at an elephant sanctuary outside of Chiang Mai, Thailand to work with the giant animals and learn about animal rescue and conservation on a larger scale.
The elephants at the sanctuary have been rescued from trekking, logging, or forced breeding programs. Many of them had been abused and suffer from chronic injuries or blindness. At the elephant sanctuary, they are cared for by volunteers from all over the world.
"They are really curious; they come up to you when they see you," she said.
Basran found out about the program online and, with her mom's say so, she applied.
"They got back to me four days later and said that I was in," she said.
In her entrance essay she spoke about seeing mistreated animals in India.
"I was ready for it," she said.
Basran said she quickly discovered not everyone has common sense around large animals.
"Some of the kids they weren't as good with bigger animals. They would just run up to them. You need to let them see you're there," she said.
She also learned about making do.
She said the vets in Thailand don't have access to all of the medical technology that is available in Canada.
"It is so different. They don't have all the medical stuff we have here. When you do procedures, say clean a wound you have to use what you have. You can only do as good as you can," she said.
Basran said the most dangerous situation had happened while on a tour with one of the founders of the sanctuary. They visited a family of six elephants, two of whom were babies and as yet untrained.
"The baby elephants aren't trained, but they are very heavy. They could just come near you and lay their head on you," she said. The consequences could be terrible.
When the babies started chasing the students, they had to run for safety.
Basran helped clean the wounds of aggressive animals that could only be controlled by their mahouts.
With the elephant behind a fence, the mahout would direct the elephant to raise its foot so the students and veterinarian could dress its wound.
"We would have to cut up its wrap, put antibiotics on and then wrap it up," she said.
In the photo Basran poses next to the biggest elephant family in the park.
"It was really intense. When we got back I was just ready to sleep."
In her second week there, Basran volunteered at a cat and dog clinic performing surgeries and administering anesthesia.
The shelter is home to dogs who have been rescued after being abandoned, beaten, or abused.
While she studied under the veterinarians leading her group, Brooklyn and her team made a difference in the lives of these dogs.
The LOOP program's Managing Director Jane Stine says, "Our students are some of the most amazing people I have ever met. They are kind, compassionate, dedicated, hard-working individuals who have big goals and want to make a big impact. It's amazing to see how eager they are to learn and challenge themselves. Over the last nine years, we've seen them go on to do some wonderful things."
Loop Abroad has animal science, marine biology, and veterinary programs for students and young adults age 14 to 30, and offers financial aid and fundraising help. Programs range from two weeks in summer to a full semester abroad, and college credit is available. Interested participants can inquire or apply at www.LoopAbroad.com. Admission to veterinary programs is selective and Brooklyn was selected based on her transcript, admissions essay, and professional references.