by Laura Keil
---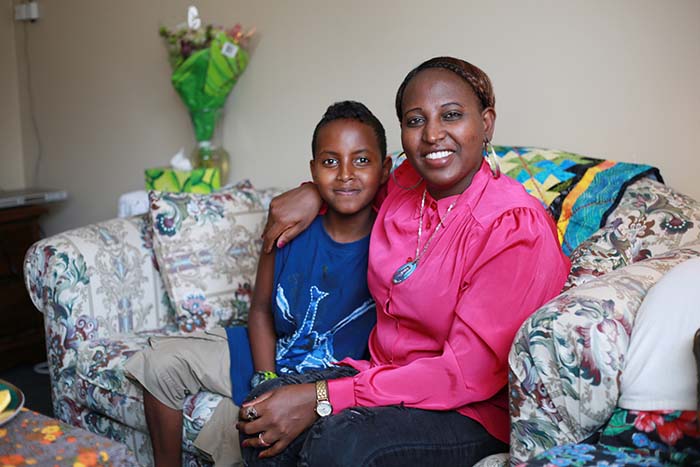 For 7-year-old Sami, who spent the first six years of his life in a refugee camp, living in Valemount is very different.
His mother Aster Gebremichael Gebreyonas said winter was a shock at first, but for Sami, winter is just another great part of living in Canada.
"I love winter," Sami said. "Because I can go skating."
It's been one year since Aster and Sami moved to Valemount with a federal refugee settlement program. Valemount raised $17,000, about half of the anticipated living expenses for the family for one year.
When the mother and son arrived, they only spoke a few words of English. Aster, who is just 26 years old, began learning English last fall. She can read and understand fairly well but she still struggles to talk to others.
"English language is very difficult for me," she says.
She credits Jared Smith at the Valemount Learning Centre for his help learning English.
"He's a good teacher," she says.
In Eritrea, and the refugee camp in Ethiopia, she spoke Tigrinya, a language that uses a completely different alphabet.
Her life now is radically different. The refugee camp was home to 25,000 people.
When asked what the camp was like, she said Ethiopians were nice but the refugee camp was extremely hot and despite the number of people living there, it wasn't what you would call a city.
Her grandfather is still alive in Eritrea, but Aster's parents are gone and her husband disappeared seven years ago.
She keeps in touch with friends from the refugee camp who are in Canada now too – in Toronto, Ontario, Medicine Hat, Calgary, and Vancouver. She said they are all adjusting to the culture.
As far as Eritrea, Aster stays current with online news. While things are getting better, it's still not ideal.
Aster says they are happy to be here.
"We are very excited about Valemount. It's a good community. Every day they help me."
Aster is now working full-time as a housekeeper at a local hotel.