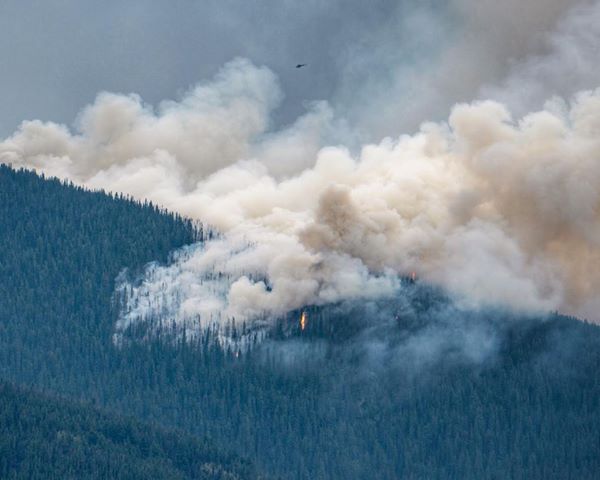 By Laura Keil
The BC Wildfire Service says 9 firefighters and two helicopters are working the fire on Mt. Mckirdy east of Valemount which started on Monday during a lightning storm, but the fire is still not contained.
Water skimmers were successful yesterday with cooling action on the fire, BC Wildfire Service says, and the fire is not currently threatening the Village of Valemount.
The firefighters are currently working on the southern flank of the fire to ensure that the fire does not grow towards the village. The blaze is only about 5km from Valemount. BC Wildfire Service says yesterday crews created fuel-free areas on the northwest and south flanks of the fire. Crews remove trees and other fuel around the fire so that there is a break in the landscape that stops the fire from being able to spread.
Information Officer Forrest Tower says there is a heli-skiing lodge 4.5km south east of the fire but currently the fire is burning upslope away from both Valemount and the heli-skiing lodge.
"We are monitoring for drastic wind direction changes, but currently the lodge is not immediately threatened."
Tower says the fire still has some active spots, and the fire is now estimated at 35 hectares in total.
"Most of it is just smouldering ground fire but there are some pockets of active fire."
Tower says due to the steep terrain there isn't a way for heavy equipment to access the fire, however, crews are building helipads to improves access for crews. There are no structures currently threatened due to the low fire activity at this time.