by Andru McCracken
---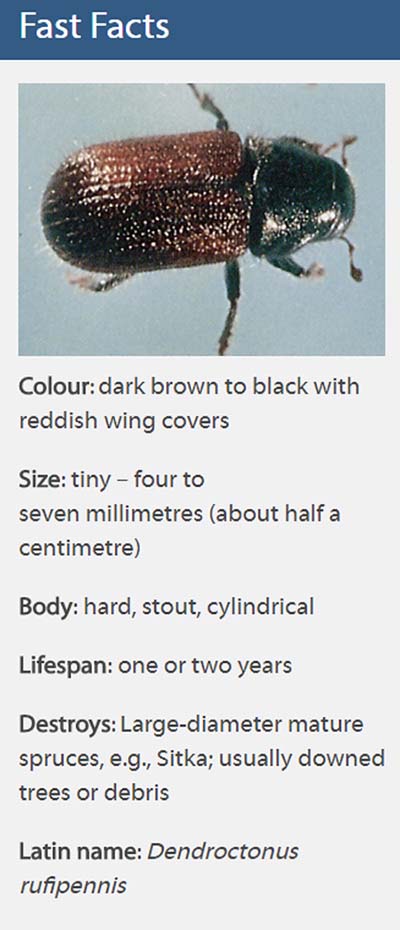 According to Regional Entomologist Jeanne Robert, Spruce beetle is a native species and normally just a part of a healthy ecosystem. But a changing climate and the lack of extremely cold winters are causing an exponential growth in the spruce beetle population.
"Usually they live on dead and dying downed trees, but during an outbreak, they mass attack healthy standing trees," said Robert.
The outcome for the attacked tree is not good.
"Once they have been mass attacked by the spruce beetle, they are doomed," she said.
The mass attack is the key, said Robert. Under typical conditions a healthy spruce tree can expel the beetles and survive.
"In the spring they fly en masse and have a coordinated effort to attack the trees," she said.
In 2014, at the beginning of the outbreak, the spruce beetles affected an area of about 8,000 hectares.
Four years later that area is 372,000 hectares and is still growing.
Keeping track of the scope of the infestation is difficult.
"We're kind of a year behind," said Robert. "The trees stay green for well over a year before we can see from the air that the tree is dead."
For woodlot owners and people with acreages or even a few big fir trees in the yard, Robert said there is a way to fend off spruce beetle.
He said if you don't have a huge area of uninfested spruce you can purchase anti-aggregation bubble caps.
The bubble caps send a chemical signal to the beetles signalling that the tree in question has already been attacked.
"It's good for a small number of trees or a small woodlot," she said.
In the larger forest, she said using techniques like trap trees, and pest reduction harvesting can have an impact.
By falling some healthy spruce trees, beetles in the area choose the downed tree.
"It's nice habitat for them to be sucked into," she said. "You can draw out the beetles that way."
Compared to the mountain pine beetle infestation that spread across the province and is still working its way towards Alberta, the spruce beetle is minor.
The mountain pine beetle peaked in about 2007 when it had consumed roughly 10 million hectares.
"It was a totally different scale," said Robert.
The mountain pine beetle is still consuming pine trees, but there has been a decline each year in new infected areas. In 2017 only 53,000 hectares were attacked, down from 76,000 the year before.
"They ran out of food," she said. "Where there is still food it is still going."
"As you go to the Alberta Border towards Jasper, (there's) still a lot of activity."
Where the mountain pine beetle spread like a wave over the landscape, the spruce beetle is much more like salt and pepper.
"The stands tend to be more mixed," she said.
Eugene Runtz, manager of the McBride Community Forest Corporation, said they haven't seen the spruce beetle in their stands yet.
"But we're taking a look and watching," he said.
Runtz said in general, the community forest is dealing with forest pests by planting mix of tree species. Last year they planted spruce, fir and cedar, this year they are planting pine as well.
He said that for the first 14 years the McBride Community forest planted spruce with the exception of one small plantation of cedar.
"It's a little late to start doing it," said Runtz. "We're trying to mix the stand, so one insect won't kill off the whole forest."
Valemount Community Forest manager Craig Pryor could not be reached for comment before press time.