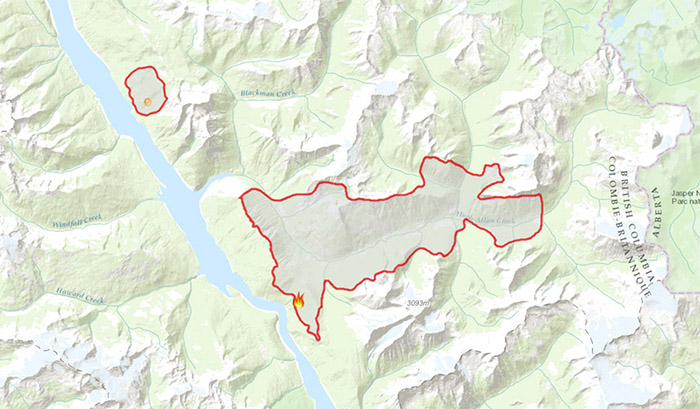 Effective at 8 a.m. Tues. Aug. 28th, 2018, the BC Wildfire Service is rescinding an area restriction order for Crown land in the vicinity of the Hugh Allen Creek wildfire. They say this is due to reduced fire activity and progress made by firefighting crews.
The Hugh Allen Creek wildfire is about 60 kilometres southeast of the Village of Valemount, on the east side of Kinbasket Lake and has burned more than 10,600 ha of forest.
The BC Wildfire Service says it reminds members of the public that the Hugh Allen Creek wildfire is still an active worksite, and that they should exercise caution at all times while travelling in the region. Even if an area restriction has been rescinded, officials still have the authority under the Wildfire Act and its regulations to order anyone to leave the area.
The Wildfire Services notes that there may be significant safety hazards in areas affected by wildfire: trees that have been damaged by fire might be unstable and could fall down; ash pits can be hard to detect and can remain hot long after the flames have died down.
To report a wildfire or open burning violation, call 1 800 663-5555 toll-free, or *5555 on a cellphone. For the latest information on current wildfire activity, burning restrictions, road closures and air-quality advisories, go to: www.bcwildfire.ca