by Andru McCracken
---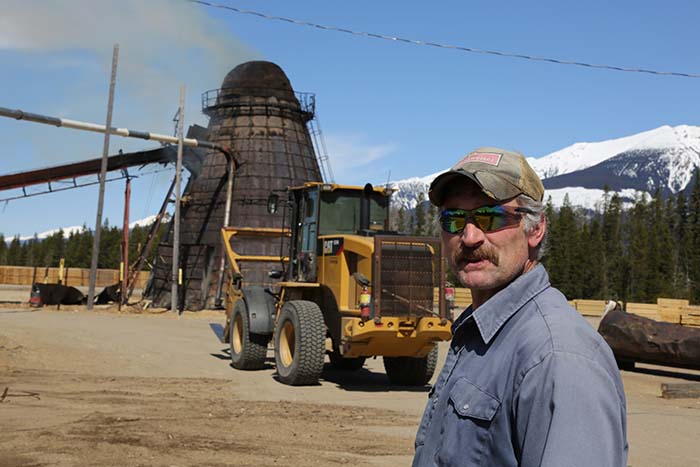 People have been speculating on the fate of Hauer Brothers Mill for years, but now the end has finally come. Although the owners weren't willing to speak on the record, employee Fitz Plamondon confirmed that the 70-year-old Hauer Brother's Mill has shut down.
Plamondon said employees received some severance but didn't elaborate.
"They are just cleaning up the wood and shipping it out," said Plamondon, "But it is closed."
The permit to run the mill's beehive burner expires in September and without it, the mill would need to find a different way to dispose of wood waste – a potentially costly venture.
Mill co-owner Darlene Gullion told the Goat in May that having a method to deal with the waste wood is critical and they've examined all the possibilities, she said.
Trucking the waste elsewhere, like to Prince George, isn't an option, she said.
"It's just too expensive, there is no way around it."
In the last few years the mill was granted an extension to run the burner, with the hope that a pellet plant would be developed at the community forest industrial site in Valemount.
But a plant never materialized.
The mill had an accompanying forest tenure license. The owners told the Goat in May that they still owned the tenure. The owners have not said whether it's been sold since then.
Plamondon had worked at the mill nine years.
He isn't sad or nostalgic about the mill closing but he does resent the move away from local manufacturing.
"That was the work for the valley. Everybody worked in the bush and mill," he said.
"Times are changing, now they want to ship it out and not process it locally."
Plamondon said the larger mills should not be allowed to hoard wood and that government should take action to keep little mills running.
"They think that bigger is better, but it isn't because it is shutting everything down around the countryside," he said.
The mill employed 10 people full-time and another five in their forest tenure. For his part, Plamondon is already back at work.
"I only had the weekend off and one Monday," he said.
He's now working for Robson Valley Timber Corp, running power saw and hooking chokers.
"So far it's not going too bad," he said.