by Goat Staff
---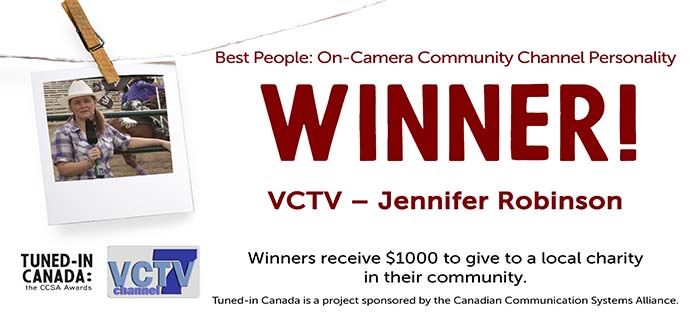 Valemount's community TV station VCTV won in two categories of the Tuned-in Canada Awards sponsored by the Canadian Communication Systems Alliance (CCSA): The station won for community channel programming and on-camera community channel personality. This is the fourth year in the past five that the station has brought home awards.
"It is truly an honour to be recognized with these awards," said Michael Peters, Station Manager for VCTV. "We work hard with our partners in the community to produce quality programming that helps to tell Valemount's stories."
Jennifer Robinson, Host and Co-Producer of the Discover Valemount tv series, was named the 'Best People: On-Camera Community Channel Personality.'
"I am thrilled and humbled to win this award," said Jennifer. "Michael and I work hard with the tremendous support of the community to raise the profile of Valemount through the Discover Valemount series. It means a lot to have that work recognized."
As a winner in two categories, VCTV will receive $2,000 to donate to a local charity or charities of its choice.
The Valemount Entertainment Society donated $1000 to the Valemount Elementary School PAC for the installation of new playground equipment this summer. The other $1000 will be put into a draw on Canada Day and one lucky local non-profit will take home the money.
Tuned-in Canada: the CCSA awards is a nation-wide, annual competition that highlights work by CCSA members – independent, local providers of internet, TV and phone services.
Submissions were sent to a judging panel for evaluation in March and a shortlist was determined. Then it was placed in the hands of Canadians to determine the winners by electronic and paper voting.