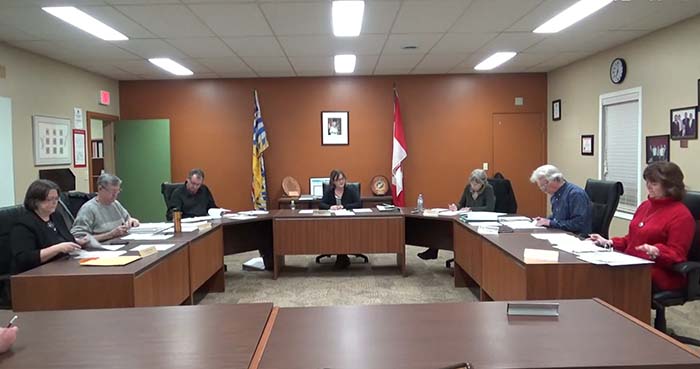 The Village of McBride held their regular council meeting on May 22. In attendance were Mayor Loranne Martin, and councilors Lucille Green, Rosemary Hruby, Rick Thompson and Harold Edwards, as well as chief administrative officer Sheila McCutcheon, economic development officer Karen Dube, minute taker Sherri Flynn and head of public works Matt Slaney.
Council adopted the agenda and the minutes from previous meetings without modification.
Reports
In addition to her extensive mayor's report, Martin added that the community had just received a grant for $75,000 for asset management. She asked staff to bring a report on how that work would roll out.
Financials
Council requested clarification about the revenue expenditure report from staff.
Recycling decision
Thompson, the village rep. to the Regional District reported on their decision not to offer recycling for plastic bags, styrofoam and glass.
"The board unanimously decided to go with the status quo and not sign an agreement with Recycle BC," said Thompson.
He said the agreement would have cost taxpayers hundreds of thousands of dollars and required increased staffing at the transfer stations to ensure recycling was not contaminated.
"The risks of contaminated recycle materials is high," said Thompson.
"We have graciously declined the offer from Recycle BC. It just wasn't a good offer. It's not that we're against recycling, we like recycling, but at the risk of costing taxpayers a bunch of money," he said.
Library move
Martin said that she helped with the library transition to 521 Main St.
"It was great. It was well organized," she said.
Thompson agreed.
"Whoever choreographed that exercise, it was phenomenal to see," he said. "At the end of five hours all the books were where they needed to be."
Responsible Dog Ownership
There was a request to post a responsible dog owner video created by the BC SPCA on the village website by F. Downey. Council Edwards hadn't looked at the video and said he wouldn't vote on something he hadn't seen. Council followed suit.
Equine feasibility study
Council scheduled a time to meet with Dave Salayka regarding an Equine Camping Feasibility Study.
Community Energy Bioenergy workshop
Council agreed to send councilor Edwards.
Access Awareness
Thompson moved that council apply for a grant from SPARC BC for $500 to host an Access Awareness Day. It's an event promoted by SPARC BC to celebrate what communities are doing to make themselves accessible.
Staff have been working on creating more accessible parking spaces.
Mail in voting, General election bylaw
Council rescinded local government election bylaw 656 and gave first reading to Local Government Election Bylaw 779 2018.
Martin asked council to consider mail in ballots. She said it was a concern for people whose spouses work out of town. The CAO said she would report on the logistics of allowing mail in voting at the next meeting.
Garbage Truck
Council approved the purchase of a 2020 Freightliner Chassis with a Haul All packer and an additional $14,045 for an automatic cart tipper.
Thompson asked if administration had considered an implementation plan for introducing the garbage bins that would work with the arm.
McCutcheon said that an implementation plan would follow in the coming year.
"Right now the bins are not part of the 2018 budget. That's why we're asking for the addition of the automated cart tipper arm," she said. "It's a very efficient way of collecting garbage for a small community, it only requires one person."
Total cost of the unit is about $232,000.
Rural Dividend Special Circumstance Fund
A report to council highlighted some potential uses for the remainder of the fund, some $12,400.
On the table was Superhost training for frontline workers, better signage, and trade show equipment.
Council asked staff to come back with more information based on their enthusiastic feedback.