by Laura Keil
---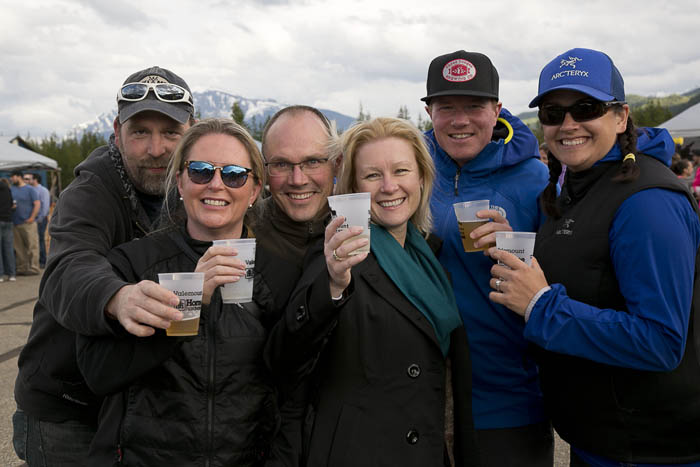 Planning for the 2018 vALEmount Craft Beer Experience (VCBE) June 15-16 is well underway with tickets going on sale this weekend.
Last year's inaugural event drew roughly 430 people; the 500 tickets sold out weeks in advance and drew many out-of-town visitors.
This year organizer and Three Ranges Brewing Co co-owner Michael Lewis expects tickets to sell out within two weeks of going on sale, despite an increase to 700 tickets.
He says they are trying to keep the same personal feel of the first year while making room for more festival goers and expanding the offerings.
"It is the same cool small-town event with the increased capacity."
Four new breweries will attend this year (yet to be confirmed) in addition to the breweries that came last year. Last year's breweries included Sherwood Mountain Brewhouse, Wheelhouse Brewing, Crossroads Brewing, Barkerville Brewing, Red Collar Brewing and Whitetooth Brewing. Left Field Cider will return, and Harper's Trail Winery is coming up from Kamloops.
On Friday night beer-lovers can attend a "Meet the Brewers" event; Saturday night June 16th will be the main festival event at the Valemount airfield. Attendees will again be shuttled to and from the festival grounds where they can sample beers (and wine and cider) from a dozen different breweries while listening to live music and dining on the menus of four food trucks. Musical acts this year will include the Robson Valley's own Samson's Delilah and the high energy, 8 Men Strong, Five Alarm Funk.
Lewis says it is a fundraising beer festival that gives back to our community and our country.
The newly-formed Sacrifice Red Veteran Support Society will be the sponsor organization for this year's and future festival events. The Society – made up of four locals and one person from Jasper – will then contribute to various charities including the Communities for Veterans Foundation (The Forge Program), the Valemount Royal Canadian Legion, and the Valemount Arts and Cultural Society. Lewis says a portion of this year's funds will go toward local children. The inaugural June 2017 event raised $25,000 for its chosen charities.
The festival came about from Three Ranges Brewing Company co-owner, Michael Lewis, as a passing idea that he mentioned out loud.  "Next thing I know, I have an appointment at the Village to talk about how we execute this plan" said Lewis.
The festival received rave reviews on social media, and he says the buzz for this year's event is growing.
Lewis says the event also promotes our community's great outdoor lifestyle. He says they are working to harmonize with other events like the Valemount Mountain Bike Fest and with local tour companies to offer deals on trips like heli-tours, horseback rides, and whitewater rafting.
Festival Ticket Info
Tickets go on sale March 3rd at 9am on the website, vcbe.org or at Three Ranges March 3rd 9am-noon (cash only, four tickets per person limit). There are two separately ticketed events: the weekend kicks off with a Meet the Brewers night at the Best Western Valemount Inn and Suites June 15th, featuring specialty casks from the brewers, appetizers and music from the Interstellar Jays. Doors open at 815pm.  The main event will be held at the Valemount Airport on Saturday June 16th from 5 to 10pm. It is a shuttle-only accessible site. A shuttle bus schedule will be posted with pickup locations and departure times closer to the date. The organizers are working to further streamline the event and will offer online beer tickets to avoid long line ups at the ticket table.
Sponsorship / advertising packages are available, please send an email to [email protected]. Volunteers can sign up at vcbe.org. If you cannot attend but would like to donate to the charity cause, there is an option to donate online.