by Goat Staff
---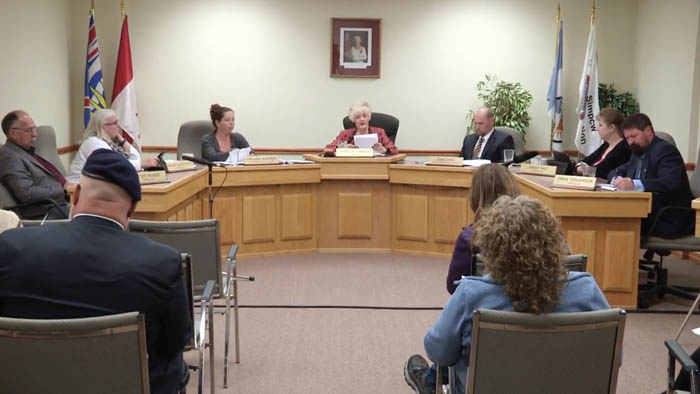 Mayor Jeannette Townsend, councillors Hollie Blanchette, Sandy Salt and Owen Torgerson met on February 13, 2018 while councillor Peter Reimer participated remotely via the internet. Chief Administrative Officer Adam Davey, Corporate Services Clerk Carleena Shepherd and Economic Development Officer Silvio Gislimberti were the staff present.
Permission for Daycare to seek funding for improvements
Council granted permission to Valemount Children's Activity Society to apply for grant funding in order to complete upgrades required to meet licensing standards.
Cannabis Tax for Local Governments
Council moved to support the Township of Spallumcheen in asking the Minister of Municipal Affairs & Housing that 50% of the provincial share of the cannabis tax sharing formula be provided to local governments to support costs and services incurred by local governments. Mayor Townsend brought up this issue from the Reading File and presented information from the Colorado Springs Gazette on how the state, after 5 years of permitting marijuana use, was seeing an increase in social problems. Councillor Torgerson made the motion because he felt the decision to legalize marijuana would impact planning, municipal and social services and local governments, thus, need the support.
North Central Local Government Association (NCLGA) Conference
Councillors Sandy Salt and Peter Reimer, along with Mayor Jeannette Townsend put their names forward to attend the conference in May 2018 in Fort Nelson.
Staff Changes at Villages
CAO presented a report to indicate new hires and reorganization of staff at the Village. Sarah Boyd is new Village Visitor Information Centre Supervisor; Suzanne Bloodoff was promoted to the newly created Deputy-Director of Finance & Emergency Management Coordinator position; Carleena Shepherd has been promoted to Deputy Corporate Officer; Megan Vicente has been promoted to Planner-I; Dean Schneider has been promoted to Bylaw Enforcement Supervisor & Building and Fire Inspector and Chris Dolbec has been promoted to Bylaw Enforcement Officer in addition to Animal Control Officer.
Valemount Airport Lighting
Council approved staff to apply to Northern Development Initiative Trust Economic Development Infrastructure Fund for a grant of up to $59,499 for the Valemount Airport Lighting Rehabilitation Project. The project estimate is $198,331 and the village is applying to the BC Air Access Program to cover 70% of rehabilitation costs. If these two grants come through, the Village will not have to use its own funds for airport improvements.
Clean Air Initiative
As part of the provincial Ministry of the Environment's clean-air initiative, the Ministry is holding a travelling 'Burning it Smart' Workshop on March 19, 2018 in Valemount. This workshop will focus on education and training of proper installation of wood stoves, information on new wood burning technologies, and demonstrations on proper fuels and wood burning techniques.
Grant Writer Report
Council received a report from Krista Etty, Grant Clerk. Her position is funded by NDIT and the Valemount Community Forest Company. She applies for and manages grants on behalf of the Village of Valemount and community organizations. The total amount she applied for in 2017 was $407,986, the amount approved was $134,636 while the amount still pending is $244,736.
Zoning Amendment
Council gave first and second reading to Zoning Amendment Bylaw No. 780, 2017 to support a second dwelling by owner John Crowley to use as a Short Term Vacation Rental at 1430 King Road. Council also approved staff to hold an upcoming Public Hearing as part of the Zoning Amendment.
Workplace Conduct Policy
After discussion with a lawyer, staff recommended that the Village prepare a comprehensive 'Workplace Discrimination, Bullying and Harassment Policy.' This is a more in-depth policy relating to council, staff and the public. Council approved policy #69 to replace a previous policy.
Council Reports
Councillor Blanchette attended a pool tournament organized by the V-Crew society, which is fully funded by CBT. She also attended meetings for Robson Valley Support Society, Child & Youth Mental Health Committee and CBT Community Initiatives committee and was part of one with Ministry of Transportation and Infrastructure.
Councillor Reimer attended the Valemount Historic Society meeting.
Councillor Salt attended the Library Renovations Grand Opening Celebration and an information session to discuss the idea of a Starratt Marsh Community Centre.
Councillor Torgerson attended a Valemount Community Forest meeting and Starratt Marsh Community Centre information session as well.
Mayor Townsend attended a CBT board meeting and Starratt Marsh Community Centre information session as well. She mentioned receiving a call from the Alberta Premier's office enquiring about the municipality's support for the Kinder Morgan pipeline, which the Mayor confirmed.
In-Camera Items
Council closed the public portion of the council meeting to discuss one in-camera item related to employee relations.