by Andru McCracken
---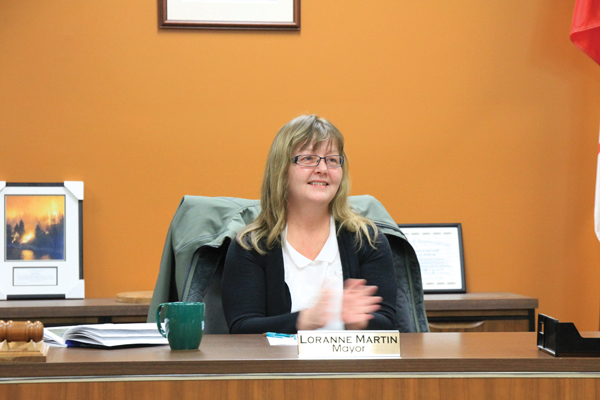 The Mayor of McBride says it's "all hands on deck" right now as the Village juggles numerous tasks: the village recently reviewed their fees and charges bylaw, they're in the midst of strategic planning, an economic action plan and they are currently developing their five year financial plan.
"You know how crazy it is this time of year," said Mayor Loranne Martin.
The draft budget for the coming year is over $2.2 million, but more than half of that is taken up by a grant that the village hopes to receive to finish work on a storm sewer on 4th and 5th Avenue.
Martin said higher levels of government expect to see these grants written into the five year plan to show how the Village will financially handle the project.
The project was pegged as a priority because stormwater runoff and water from people's sump pumps was going through the village water treatment system.
"We had far more water going into the sewer than normal household use. The less water [that goes through the lagoon system], the longer it lasts," she said.
Martin said the Village is still paying back a five year loan from the Northern Development Initiative Trust to build the lagoon system, which amounts to $90,000 per year.
"It's about a quarter of our tax base," she said.
Martin said the village raises about $450,000 in taxes each year, and gets on the order of $300,000 per year from the province's small communities grant.
Martin said there is money in surplus, but council will now begin the challenging conversation of wants versus needs.
"We need to be smart and leverage it wisely," she said.
"It's quite a big process this time around, quite exciting," she said. "The problem is we have so much on the go."
Martin said getting a new garbage truck is on the table; she said they might go another year with the current one, buy a new one outright, or finance a new one.
"It's a lengthy process," she said. "You start out with wants and needs and pare it down from there."
Martin said council will consider the wider community too.
"With this new economic development plan, it includes areas outside the village," she said. "We'll be looking at the overall village health and finances."
She notes that even though the plan is for five years, subsequent councils are not locked in and can change priorities as required.