by Andru McCracken
---
Kathy Blackman is the go-to source for driving conditions between Valemount and McBride, but on January 19 she was reporting on her own condition to Facebook followers from the side of the road beside her upturned truck.
Kathy said she was returning to Valemount from a night shift at the McBride Hospital when the trouble happened.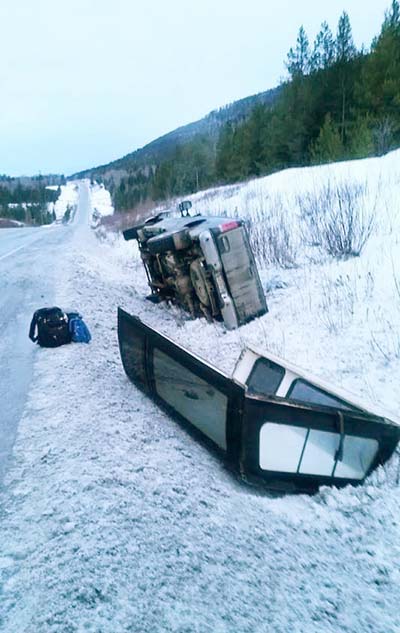 "I was coming down into Small River and I was doing about 80-85 clicks. I'm just coming on to the bridge and probably maybe doing 80 and a moose came firing out of my side [of the road]," she said.
She wanted to slow down, but could feel the lack of traction.
"You don't want to hit your brakes," she said.  "I just let my truck slow down and I'm gently tapping and I look up and there is a semi truck coming over the rise going northwest."
She said that the timing couldn't have been worse if it had been planned.
"I'm coming off the bridge and I'm just missing the moose's rump, the semi truck has got another 40 feet to me," she said.
But the wheels of fate were set in motion, and her truck was now going out of control.
"I tried to grab as much traction as I could on my side of the road and try and get control," she said. "It was a 'holy shit' kind of moment."
She cleared the moose, and began fishtailing beside the semi, but made it past without making contact.
Her truck spun around and luckily went into the north ditch, the south ditch is steeper and the consequences could have been much higher.
"I took it into the ditch going about 60 km per hour nose first," she said. "It wasn't a soft landing."
When she hit, the front of her truck bounced up and the truck box canopy popped off. The truck came to a halt on its side, driver-side up.
Then she sat, suspended in her vehicle, watching the tractor trailer try to stop.
"I could see him hitting the brakes, but he was going to lose control of his trailer because he was starting to slide sideways over Small River Bridge," she said.
She noticed the music playing.
It was Buck Owens and his Buckaroos singing the song, Ruby, a twangy upbeat country song with lots of banjo.
Ruby, Ruby, Honey are you mad at your man?
Blackman's seatbelt was "tighter than a whiskey barrel." She opened the moonroof, unlatched the seatbelt and dove into a big red willow bush.
She was grateful to be alive, but it was not a good moment.
"Have you ever had a dream where you are naked in front of the class?" asks Kathy. "That's how I felt standing on the side of the road."
Kathy said the truck meant a lot to her. It was her first new truck and one she knew her father would appreciate. It was a 2006 F350 crew cab diesel with a lift and 20 inch wheels. But with a bent frame, it's a write off.
Kathy said she hurt her knees and rib cage.
"My knees look like somebody took a baseball bat to them," she said.
She's been making the commute between Valemount and McBride since she started working at the McBride Hospital in early 2014.
She posts the road conditions in the morning and evening on her way to and from work on a regular basis in three facebook road condition groups.
"It doesn't take me long to get it done. I didn't realize how many people actually look at it until they saw my truck tipped over."
She said she was overwhelmed by the outpouring of concern, with many people offering her the use of a second vehicle. Including someone she didn't even know from Jasper.
Kathy vowed to get back to work as a nurse, but said she wouldn't dare show up before she was fully prepared to do her job, less she spoil her family's good name.
If you'd like to learn about road conditions or see her post for yourself it is on the public group Hi way 16 Yellowhead Road Report: Prince George to Jasper.