by Andru McCracken
---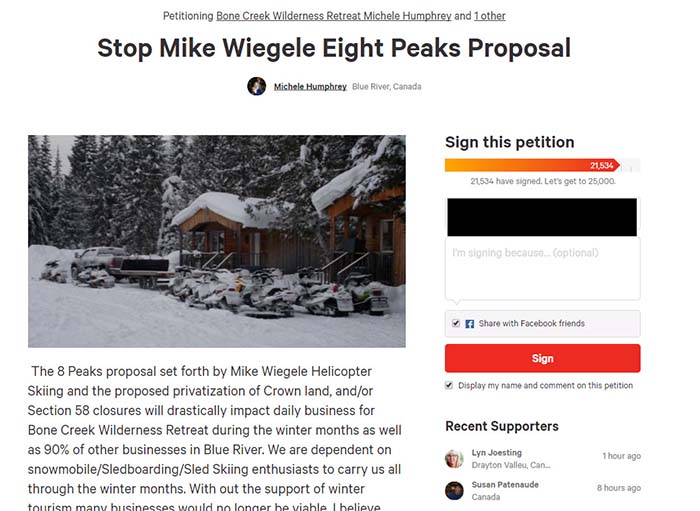 An online petition to prevent the province from turning eight mountain peaks around Blue River into leased ski runs for Mike Wiegele Helicopter Skiing has garnered more than 21,000 signatures.
Michele Humphreys brought the petition online to the website Change.org over the holidays. Humphreys runs the Bone Creek Wilderness Retreat which she bought in 2008. It's 158 acres surrounded by Crown land.
"We purchased it because it was surrounded by Crown land and not private land," she said.
Her guests snowmobile from her place in the winter and hike in the summer.
She hadn't heard about the Eight Peaks plan until she read an article in the Goat about it.
"Nobody informed us about Eight Peaks," she said.
She said she was totally blindsided by the news.
She sent a letter to government in December, but still hasn't heard back.
"I don't believe any organization should have exclusive rights to Crown land."
The Eight Peaks Plan was finalized in 2003 with consultation from many stakeholders at the time. Bob Sayer, Senior Lead Heli-ski Guide and Operations Manager for Mike Wiegele Helicopter Skiing said that the plan doesn't take away areas currently used by snowmobilers.
"The idea was to allow us to cut some ski runs on each of the eight mountains around Blue River," said Bob Sayer, Senior Lead Heli-ski Guide and Operations Manager for Mike Wiegele Helicopter Skiing.
He said it would allow them to get their backcountry heli-skiing guests out even when there is low cloud cover, and offer a completely new and far more affordable type of heli-skiing.
One of the people supporting the petition is Albert Venor, president of the Blue River Powder Packers, a local snowmobiler association. Venor is opposed to the plan and he wants government to negotiate a better deal for snowmobilers and other users.
"When I look at these mountains, everyone of them has a closure or a partial closure. I think, 'I'd love to go there,' but I can't, and then I see a helicopter land. 'They can go there, I can't.'"
When he expressed concerns about the Eight Peaks Plan in the Rocky Mountain Goat Newspaper in mid-December, Venor said he was merely hoping to make it difficult for government to push the plan through. But with the growing online support, Venor said it might be possible to have concessions for local users, like reducing the number of peaks involved and jointly developing closures to accommodate a variety of uses.
Venor had started a paper petition in Blue River. But Humphreys put a petition online. In its first day, the petition got 1500 signatures.
Venor said the petition has triggered many reactions some positive and some negative, including a Facebook death threat against Mike Wiegele, the founder of the resort.
"When you get 20,000 people anywhere there are going to be some bad apples in there. If there were threats against me I would take them very seriously," said Venor. "That's the ugly side of social media."
Venor said the the heli-ski company is an important part of the community and he doesn't want to vilify them.
"They take the local school kids heliskiing once a week," he said.
Venor believes there are many reasons people are signing the petition.
"I don't think all 20,000 signatures are snowmobilers," he said.
For some it's the relationship Canadians have with Crown Land.
"We feel we have all of this Crown land and so much space, and all of us can access it."
Venor said some people are upset that government is choosing one industry over another.
"When it was a handful of local rednecks it was pretty easy (to ignore one industry)," he said. "Now it is going to be tough for them to pull this off."