by Andru McCracken
---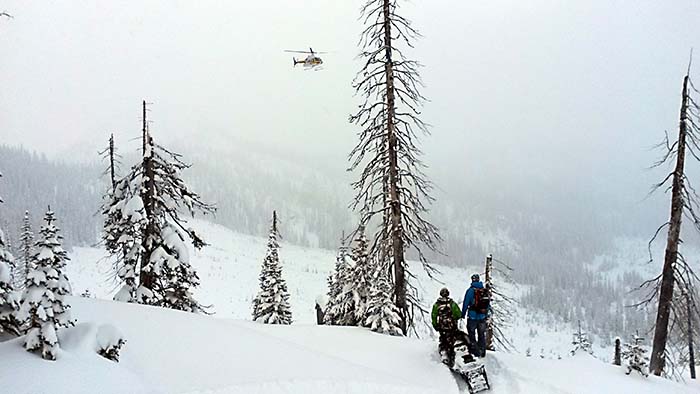 It is 15 years old, but as the Ministry of Forests and Mike Wiegele Heli Skiing attempt to put the Eight Peaks Plan into action, they are facing new opposition. The Eight Peaks Plan is unique. It would allow Mike Wiegele Helicopter Skiing to create heli ski runs on the eight peaks surrounding Blue River. It would also enable the company to prevent other users from going there. We took time to talk to some of the stakeholders involved.
Mike Wiegele Helicopter Skiing
Bob Sayer is the Senior Lead Heli-ski Guide and Operations Manager for Mike Wiegele Helicopter Skiing.
"The idea was to allow us to cut some ski runs on each of the eight mountains around Blue River," said Sayer.
It would allow them to get their backcountry heli-skiing guests out even when there is low cloud cover, and secondly it would allow them to offer a completely new and far more affordable typeof heliskiing, he said.
"Flying time costs me half an hour just to get to [some areas]," said Sayer. "Where as these eight peaks are within 3 or 4 minutes flights. We could offer heli-skiing at a much cheaper price."
Sayer said helicopters use half of their budget.
"We have 220 staff. More than all of that is the cost of helicopters," he said. "Right now heli-skiing is $12,000 a week. We could probably sell [skiing the eight peaks] for $5000 a week."
Blue River Powder Packers
Albert Venor moved to Blue River for the legendary winter recreational opportunities in 2010 and was recently elected president of the Blue River Powder Packers.
He is a snowmobile and snowbike enthusiast, and uses them to access terrain for skiing.
Venor said visitors and locals are are being shortchanged and that the economic contributions of snowmobiling to the region are being underestimated.
"We've been squeezed out as a snowmobiling entity and pushed towards the areas that are more avalanche prone," he said.
He said caribou closures have been used as a tool to close down motorized recreation in certain areas and keep them out of prime heli-skiing terrain.
"There are more Section 58s [a type of government closure] between Valemount and Blue River than there are in the rest of the province," he said. For Venor, it's an indication of government's preferential treatment of heliskiers.
The conflict
The government is ready to implement the plan that was developed after extensive stakeholder input, but before things move further, the heliski company is asking the Blue River Powder Packers to respect the tenure in advance.
For good reason.
"Back in 2005 we did create one of these runs on Duffy's which is next to the Red Sands snowmobiling area," said Sayer. "We spent eight hundred thousand dollars creating that.It was never an issue until two years ago. Guys on snowbikes started getting in there. We opened it up so you can ski. I'd like to keep them from going into there."
Venor is one of those users.
"Until they put a stamp saying there's a private lease we can go ride their today," said Venor.
It's a problem for Mike Wiegele Helicopter Skiing, Sayer said, because snowbike tracks can prevent heliskiers from using it for a long time depending on when the snow. Having to fly guests further out, costs a lot in terms of helicopter time.
Beyond the conflict at Duffy's, as far as Sayer is concerned the Eight Peaks Plan will have no impact on snowmobile access for the local club.
"We're not trying to chase them out of anywhere; nobody is using these spots at the moment," he said. Sayer said that they would be glading areas that simply can't be used otherwise, and if there is access through these places on forest service roads, snowmobilers would be allowed through.
Venor said with changing technology some areas should be kept open to snowmobiles and snowbikes.
"Of those Eight Peaks two are really prime," said Venor. "We really don't want to give those up.
They are great terrain, they are a draw."
Venor would like to get the company and the government back to the table to negotiate a better deal for public users.
"We've been playing defense for so long as a club and an industry, people are cringing, we're going to lose more and lose more. We will eventually have to hold our ground. You can't just take our stuff all the time," he said.