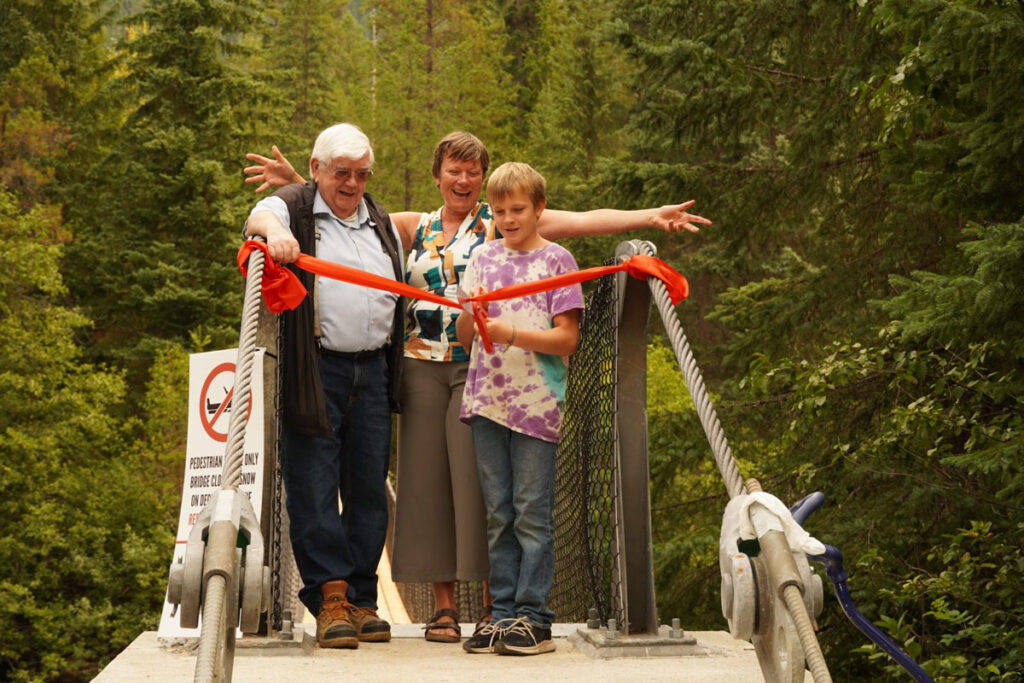 Goat staff with submitted files
Blue River is celebrating a newly-completed Pedestrian Suspension Bridge that connects their trail network on both sides of the Blue River, providing a pathway to year-round recreation in the area.
The bridge makes sections east of Blue River much more accessible, says Colton Davies, Communications and Marketing Manager, Thompson-Nicola Regional District.
"The bridge and the trail system can be used for hiking/ biking in the summer months and snowshoeing/ cross country skiing in the fall. It's a project that has been in the works for several years and it was finally completed and opened in December 2022."
The Thompson-Nicola Regional District (TNRD), the Government of Canada, the Province of BC, and local partners Trans Mountain and Mike Wiegele Heli-Skiing held a grand opening event on August 17, 2023.
The bridge rejoins the trail network for the first time since a previous structure was washed away by heavy rains in the late 1980s. The suspension bridge was identified as a top priority in the Blue River Trails and Active Transportation Plan from July 2021.
Users can use the 27.5 km trail network for walking, hiking, biking, snowshoeing, cross-country skiing, and more. In the winter 11.8 km are groomed as cross country skiing trails and 13.2 km of ungroomed snowshoeing trails. The trails take you along river vistas and through valley floors lined with cedar and spruce trees in this inland temperate rainforest. Trailheads are located both east and west of the Blue River townsite.
"We are fortunate in Blue River to have so many outdoor opportunities right at the doorsteps in this small town," said Lee Onslow, Electoral Area B Director. "With the pedestrian suspension bridge and an ongoing project to establish trail signage and infrastructure, the Blue River Trail Network continues to grow as a destination for people seeking many outdoor activities."
She says the community also appreciates the funding partners that have helped make the pedestrian suspension bridge possible, through the Canada Community Building Fund and generous contributions by Mike Wiegele Heli-Skiing and Trans Mountain.ca.
The TNRD provides Tourism Marketing as a service that is specific to Electoral Area B, and the Blue River Trail Network is promoted through this work. To find out more, visit: blueriverbc.ca, or follow Explore Blue River on Facebook or Instagram.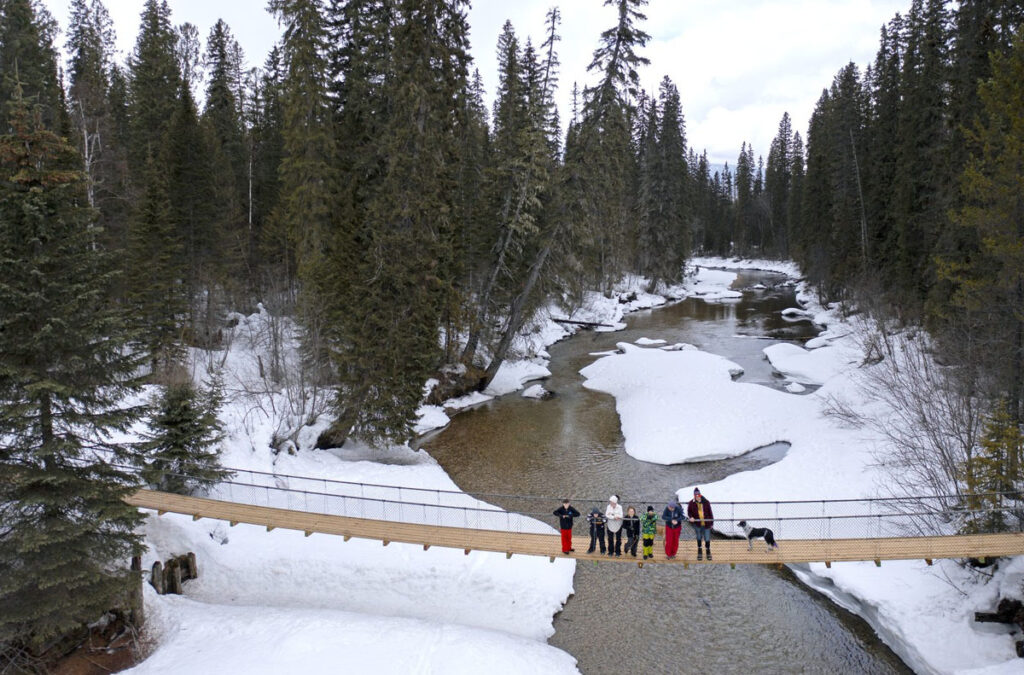 Funding Contributions include: Trans Mountain Community Benefits Agreement: $80,000; Canada Community Building Fund: $60,000; Mike Wiegele Heli-Skiing Resort: $37,500; TNRD Electoral Area "B" Parks Budget: $56,166.83.