For three years, locals have speculated on the details of the John and Shanna Buehler case that left John dead and Shanna clinging to life during a police ambush at a trapper's cabin south of Valemount. On Nov. 27th, 2017 Shanna was given a conditional discharge, therefore her case will not go to trial. The discharge means details from her preliminary inquiry are now public. The Goat is now publishing stories based on details from the inquiry as well as from local sources.
by Laura Keil
---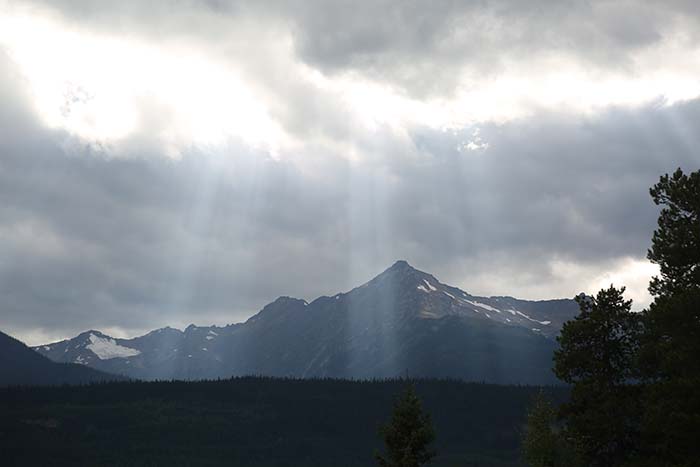 In a secular world of law and order, there isn't much place for a man like John Buehler.
Buehler had been preparing for the end of the world for at least three years before he came to Valemount in 2011.
A prepper, a self-described old-testament prophet, on the surface he seemed like he only wanted to be left alone. But he didn't shy away from defending himself.
John believed God spoke to him directly. His singular goal, it seemed, was waiting for the Rapture. But his attempts to wait it out in the middle of nowhere fell through. Finding the middle of nowhere, it turned out, was difficult. Rural areas that seem abandoned are often seasonal haunts or rec sites. They aren't places you can camp and be left alone – especially when you're amassing survival gear and running from the law.
Why John chose Valemount is a mystery. Perhaps it was cheaper.
Outside the Valemount courthouse last January, John's brother-in-law looked up at the frozen mountains and paused: "No wonder John liked it here. He loved the mountains."
Life in Valemount
Shanna Buehler was 18 when she moved to Valemount with her father. Unlike her father's tall, broad-shouldered build, she was slim with straight, light brown hair and delicate features.
They rented a house in town. Their pets included a cat and six German Shepherds, dogs he later described as attack dogs.
During their time in Valemount, John kept careful watch of his daughter's movements. In a court document, Shanna said she was only allowed to leave their rental property six times during three years and was prevented from looking at newspapers, watching TV or having other outside contact.
His control over her included altering her beliefs. Shanna was persuaded her father was a prophet and the end of the world was coming and she should obey him.
They began hoarding food, collecting firearms, and amassing batteries, soap, ammunition and more.
Due to what a court document described as his "volatile" personality, John was unable to keep regular work, and sometime in late 2013 or early 2014, he stopped paying his bills.
"I'm guessing he ran out of money," said Rene Nunweiler who ran Robson Valley Internet at the time. Buehler was a customer and often came in person to pay his bills.
He told Nunweiler to make sure she was a Christian before the end of the world came. Nunweiler said he seemed disappointed the end of the world didn't come on December 21st, 2012, a date linked to a Maya prophecy.
Nunweiler said she was impressed by his strong beliefs and she even describes him as "a bit charismatic."
He was tall – over 6 feet – with a stocky build and clear, blue eyes.
"He had these riveting light blue eyes that made you feel like you were staring into a soul," Nunweiler said.
Though he held some extreme religious views, John didn't strike Nunweiler as aggressive; he was always polite with her.
"I think something snapped," she said.
Camp Creek stand-off
In June 2014, Buehler bought a camper and towed it to the Camp Creek recreation area, roughly 15km south of Valemount, a site used mostly for cross-country skiing and horseback riding.
The parking area has a storage shed and a covered picnic area with a wood stove and there's a log cabin just off the access road.
In early June, Nunweiler and another local biked to Camp Creek and found John and Shanna living there.
John's RV was parked in front of the picnic shelter and they saw items strewn around the clearing and their storage shed and log cabin being used by him. They saw chickens, food, dog food and tools. The dogs were running loose.
Nunweiler knew the situation had to be approached carefully.
"What I would be worried about is if he felt persecuted or backed into a corner," she wrote to a fellow rec club member Patricia Thoni in an email.
Thoni went to talk to John to let him know he couldn't live there. She drove into the clearing and, after John had restrained the dogs, she opened her car door. She told him Camp Creek was a rec area and he needed to be moving along. She described having a nice conversation with him. She got onto the topic of the 2008 recession and John said, "Oh you haven't seen anything yet," and added, "The worst is about to come."
Despite his civility, John made no promises to leave. He told Thoni it was difficult to find a place to rent with all the dogs.
In his dealings with locals, John often had a non-compliant but peaceful approach.
"I think God was his only law," said one local who had met him. "The laws of the land meant nothing to him."
On June 19th local horseback riders arrived to use the trails. The German Shepherds ran loose and barked at them, blocking access to the trails.
After words were exchanged, John threatened the horseback riders, telling them he had four male dogs.
"This is my campsite," he said, according to a court document. "The dogs will kill you and anyone and any animal you have if you come back here again."
The riders returned to town and reported it to police.
Until then, local police had had no contact with John, who had kept to himself during the previous couple years.
But despite this period of calm, John had a criminal record for violent behaviour.
As reported in court documents, John abused his daughter from a young age – beating her with a belt, forcing her to hold liquid soap in her mouth, and one time beating a pet to death with a hoe. He had also abused Shanna's mother before they separated. Police also learned he had shot a family member.
Buehler told one local the dogs were for protection from desperate people who might try to rob his supplies during the economic collapse of end times. But in June, he used the dogs as a weapon, first to chase off trail users and then as a shield against police.
Local RCMP came to the site but John used the dogs to keep them at bay. While sitting in a police car, Shanna yelled at her father to turn himself in.
After a four hour stand-off, John surrendered and was arrested. When police searched his trailer, they found multiple firearms, a handgun and thousands of rounds of ammunition.
He hadn't used the guns during the standoff, but had no license to own firearms. He was previously banned from owning firearms though the ban had expired.
Police confiscated the weapons and dogs, but John applied to get them back. The judge released the dogs to Shanna, which given the circumstances meant they went right back to John, who had been given a conditional release.
Running from the law
After his arrest, John became paranoid he would go to jail, Shanna said in a court document. He moved their camper further into the bush to roughly the 23km mark of the West Canoe Forest Service Road along Kinbasket Reservoir. The western lakeshore is flanked by an extremely steep mountain slope. Avalanches of mud, snow and debris often make the road impassable.
In early August, John discovered a trapper's cabin roughly 55km south of Valemount on the same road. It was an extremely remote location, accessible by the minimally-maintained forestry road or by boat. A single-lane log bridge over Windfall Creek was the last bridge before the cabin. This is the crossing John would later set on fire.
When the trapper showed up at his cabin in September to prepare for the upcoming trapping season, he found the lock on his gate had been replaced.
It was 10:30 pm on Sept 7th when trapper Milton Balon saw a flashlight coming from the cabin on the driveway.
The man came up to him, said his name was John and that he was living there. He wasn't carrying a weapon.
Balon had never met John and, during Shanna Buehler's preliminary inquiry, he told the court he felt intimidated. John was taller than him and several German Shepherds growled and sniffed around him.
"You gotta leave," Balon said.
John wouldn't agree to leave.
Balon saw all kinds of things in the clearing of the cabin – cars, fridges, freezers, gas, tools, dog food and chickens.
He also saw a young woman closer to the cabin, but she didn't speak.
Balon said he would be back in seven days and he wanted them gone by then.
He said John kept saying "We gotta talk, we gotta talk."
The cabin – leased on Crown Land – had never been locked. It had a sign in it that said "Use if you must." Balon also told the court that the sign said "Keep it clean."
Later, when Balon returned, he found the cabin bed had been moved under the truck for the dogs to sleep on and all his stuff thrown down the bank in a wet heap.
At the time, Balon returned to Valemount. "I was pretty choked up," he said during the preliminary inquiry. He reported what happened to police.
Meanwhile, John had failed to show in court Sept 4th and a warrant was issued for his arrest. Additional warrants were issued Sept 17th.
While police analyzed the situation and brought in police emergency response teams, family members of John and Shanna Buehler contacted police. They told them they were very worried about Shanna's safety. The relatives gave police another reason to be wary: they were concerned John was trying to have another Mayerthorpe – referencing the 2005 incident in Alberta where James Roszko ambushed and killed four officers on his farm as the officers tried to arrest him.
Read our next installment about the sequence of events leading up to John Buehler's fatal shooting, an episode which left Shanna Buehler clinging to life.