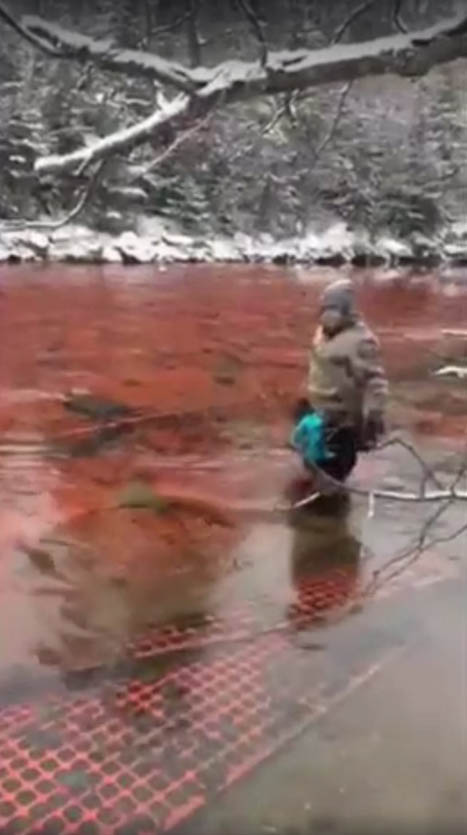 by Andru McCracken
Activists removed salmon spawning deterrents from Swift Creek last week. The deterrents (orange snow fencing laid flat on the creekbed) were laid to prevent salmon from spawning in areas where creekbed disturbance was likely during later pipeline construction. The snow fence has become a flashpoint between pipeline protesters and the company.
"We are not associated with a particular organization," said Anushka Azadi, the only activist willing to be identified who made the trip to Valemount to remove the fencing. She was reached at a 403 area code number (Alberta), but did not say where she was based.
Azadi said she believed the deterrents prevented salmon from spawning further upstream. She said she was confused why there would be a salmon habitat restoration site upstream of the snow fence.
"That's not a restoration project because there are no salmon spawning," said Azadi. "The mats have been put down to stop salmon spawning."
But according to Bruce Wilkinson, president of the Swift Creek Watershed Society, salmon have spawned this season and their redds or nests can be seen in the restoration area upstream of the snow fence and beyond. The snow fence was designed to prevent spawning in areas it was laid – not upstream or downstream.
Wilkinson says he hopes the activists haven't disturbed the nests.
"If these warriors were not aquatic biologists I feel they probably did damage to salmon redds (nests) in the river," said Wilkinson in an email. "If they are not aware of what the salmon do here they also probably are not aware that our eggs are just about to hatch into Alevin."
He said if they walked through a nest they likely destroyed 2000 to 3000 salmon.
When pressed, Azadi said she was authorized by Flora Sampson, whom she said was a Secwepemc First Nations elder who appears to live in Chase. We were not able to get in touch with Sampson by deadline, whose Chase area number is disconnected.
Azadi called Trans Mountain's actions disgusting.
"It's not acceptable for them to come mucking around smaller communities," said Azadi.
Chief Nathan Matthew of the Simpcw First Nation knows that there are concerns about the mats. He said they don't prevent salmon from spawning, however.
"It helps minimize the impact to spawning," he said.
"I have a general concern about whoever removed the mats. They could have walked over part of the areas that the salmon had spawned in," he said. "There are growing salmon in the stream bed. They could have (been) negatively impacted."
Matthew said no one contacted the Simpcw or requested permission to operate within their territory.
"We think it is only appropriate that if anyone is doing something in our division of the territory that they contact us. We would never think about going to another part of the territory and carrying out these activities," said Matthew.
"We are in a time and place where we attempt to respect the natural world including the water and the fish and the deer and minimize impacts."
Earlier this month, Trans Mountain dropped their request to install more spawning deterrent mats in creeks around the province and promised to remove them when they could do so without jeopardizing fish spawning.
The company installed the mats at the bottom of Swift Creek and in six other streams between Valemount and Blue River this past summer. While the company aimed to minimize disturbance to spawning fish, the National Energy Board (NEB) said it did not have the NEB's permission to install the mats, as they consider the activity "construction" not "pre-construction."
Azadi posted a video about removing the spawning mats after attending a federal Department of Fisheries and Oceans meeting. View it below: