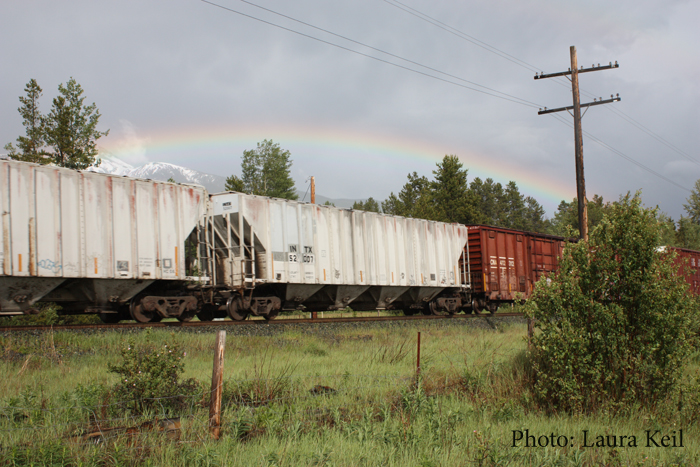 by Andru McCracken
CN has applied to Transport Canada for crossing upgrades, according to Kate Fenske, Media Relations for the rail carrier, however no funding has been approved yet.
If approved by Transport Canada, CN would then proceed with upgrades, likely in 2018/19, Fenske said.
Upgraded crossing arms at Dogwood Street and 5th Avenue would bring the community one step closer to getting rid of the train's whistle – a welcome change for many residents living near the tracks.
Will Chitty recognizes the train is an important service, but he's not happy about the horn blasts.
"It's so loud and depending on the operator it can get ridiculous," said Chitty. " It seems insane that we don't have crossing arms as of yet."
He believes residents close the tracks like the seniors' residence suffer from the blasts, especially on cold clear nights.
"I spend a lot of time in Jasper and without the horn you hardly notice the train," he said.
He also believes there is a safety issue that should be addressed.
"One of these day someone is going to get hurt trying to beat the train at those uncontrolled crossings," he said.
Peter Fox lives on 3rd Avenue and said that the train disrupts his sleep several times a night with larger consequences to health.
"Unless you can afford to get away from here on a holiday you cannot reset the clock," said Fox, who has multiple sclerosis.
He admits he is sensitive to sound, so he can hear the train horn as it approaches Cedarside. By the time it blows its horn just next to his house he likens it to torture, made worse in the winter when the air is dense on cold clear nights.
An estimated 30-40 trains pass through the community each day. Valemount has deep ties to the railroad, and some have grown to love the nightly racket, tuning it out at night.
Local seniors Rich and Norah Meyers don't notice the train noise, despite living about as close to the tracks as you can get on a first floor suite at the Golden Years Lodge.
Norah points across the street to a white shack perched a few feet from the track. She grew up that close to tracks. Norah's father was a sectionman so her life was intertwined with the railroad. Since moving to Valemount in 1994, her husband Rich's life has been too. Even as I'm interviewing him outside his apartment, he looks up and waves to the engineer of a passing freight train.
"When I go to bed at 11 pm I don't hear the train," he gestures as if to turn a switch off near his head.
"I always wave at the VIA Rail and Rocky Mountaineer guys. They always toot us or salute us," he said.
When asked if he thought getting rid of the whistle would improve the lives of residents of the Golden Years' though, his answer was an emphatic yes.
"There have been a few people over the years that do complain that it is an inconvenience and a discomfort," said Meyers. "To them it will probably be a remedy."
Edna Plamondon is no stranger to the train. Before moving into a suite at the Golden Years' Lodge, she lived on Whiskey Fill Rd close to town.
She typically only notices the horn when there is something different about it. When the horn signals that there are animals on the track with a series of whistles she says she'll jolt awake. She explains that the horn sequence would cause her to wonder if her horses had got loose and were on the track.
Plamondon has noticed that some engineers seem to play with the horn as if it were a new toy.
"They hit [the horn] at the Swift Creek Siding and hold it right through town," said Plamondon, laughing.
Asked whether she'd miss the whistle, she said, "I don't think anybody would be sad about it."
If the train whistle is indeed stopped it could have positive implications for tourism businesses like hotels near the tracks.
Many reviewers complain about the noise.
"A train went by hourly literally every hour from 2am until 6 am right beside room with whistle blasting."
"if you really like 4 or 5 trains per night blaring their horns this is the place…"
Even if the crossing arms are installed, an anti-whistle bylaw would be required by the local village council.
As far as the crossing arms go, Media Relations for Transport Canada said that CN's application will be weighed on merit.
"All applications are evaluated based on safety issues such as accident or incident history, public complaints and enforcement history. The proponent is required to provide information to support the application," said Senior Media Relations Advisor Marie-Anyk Côté.
She said that the submissions for two crossings in Valemount were carryovers from applications received in 2016, and will be evaluated against other BC submissions.
It's unclear what Valemount's chances are; Côté said there are 53 applications, some carried over from the 2017 intake.
According to a 2014 Transport Canada list of the 500 riskiest rail crossings, Valemount's crossings ranked #299 and #392.
Côté said crossing maintenance is a joint responsibility between the road authority and the railway as prescribed by the Grade Crossing Regulations.
Valemount can expect to pay half of the annual maintenance for the crossings should they be approved, and just because the crossing arms are installed doesn't mean the whistling will stop, according to a confidential source familiar with the railway. The source said illegal foot crossings (near the Valemount Hotel Liquour store for example) may need to be sealed off in addition to an anti-whistle bylaw by the village.
From the Railway Safety Act:
Use of Whistles
23.1 (1) No person shall use the whistle on any railway equipment in an area within a municipality if
(a) the area meets the requirements prescribed for the purposes of this section; and
(b) the government of the municipality by resolution declares that it agrees that such whistles should not be used in that area and has, before passing the resolution,
(i) consulted the railway company that operates the relevant line of railway,
(ii) notified each relevant association or organization, and
(iii) given public notice of its intention to pass the resolution.
Ministerial decision
(2) The Minister may decide whether the area meets the prescribed requirements and the Minister's decision is final.
Exceptions
(3) Despite subsection (1), the whistle may be used if
(a) there is an emergency;
(b) any rules in force under section 19 or 20 or any regulations require its use; or
(c) a railway safety inspector orders its use under section 31.