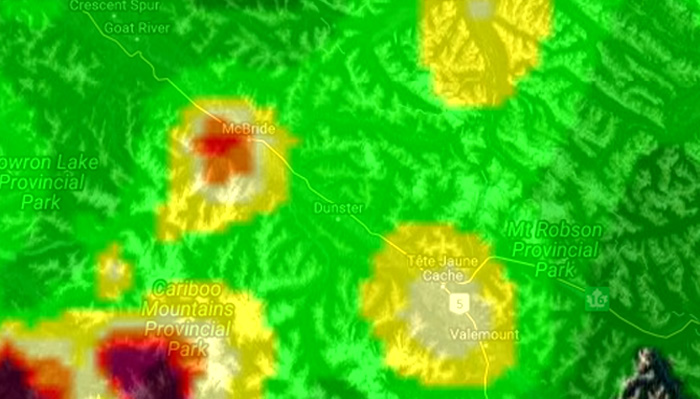 by LAURA KEIL
Showers in the Robson Valley are a welcome antitote to the dangerously dry wildfire conditions, but a thick smog has also settled in, spiking unhealthy particulate matter in the region.
A shift in wind direction is pushing the smoke from the fires in the Cariboo into the entire northern part of the Province, said Amanda Reynolds spokesperson for the Prince George Fire Centre on Sunday. This smoke is expected to linger in the area for the next few days.
Currently the largest wildfire in the Prince George Fire Centre is burning east of Lucas Lake about 65 kilometres southwest of Fraser Lake. As of Aug. 13, this fire has burned about 8,227 hectares. No communities or structures are currently threatened by this fire.
As of Sunday morning 9am, particulate matter as measured in parts per million (ppm) in Valemount was over 400ppm – the second worst air quality reading in Western Canada at that moment. See air quality readings on our website here.
The B.C. air quality objective is no more than 25ppm over a 24 hour period, which will likely be exceeded over the next two days.
The FireSmoke Canada website shows the smoke will get worst before getting better, showing the worst smoke will arise Sunday morning in Dunster & McBride and around 6pm in Valemount, before clearing up around 9pm. On Monday, the smoke will worsen in the afternoon and clear up again in the evening.
The closest large fire near the Robson Valley is roughly 30km south of Dunster at the Clearwater River headwaters and is listed as 200ha big.