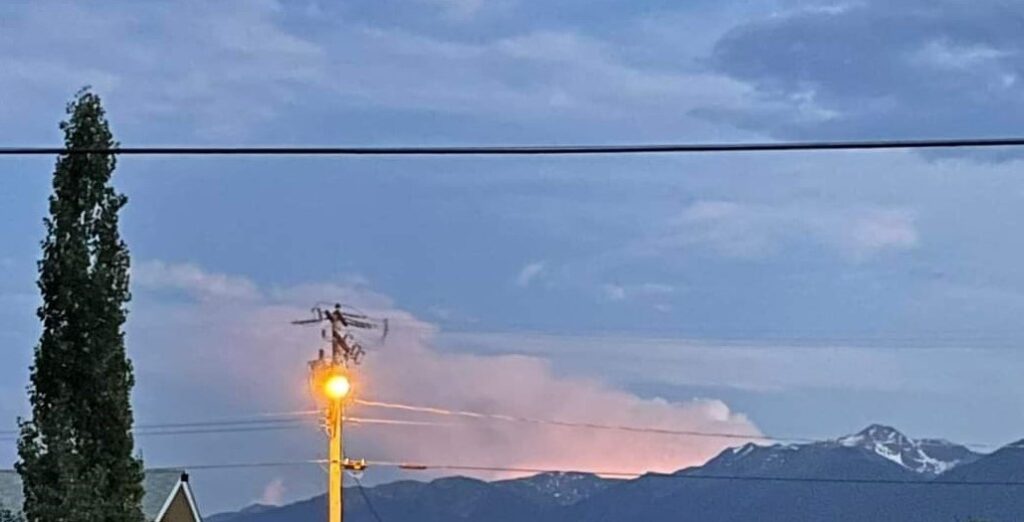 By Laura Keil, with files from BC Wildfire
Valemount residents called in what appeared to be a dangerously large and close wildfire south of the community Aug 12th, but after doing a reconnaissance flight, BC Wildfire Service says the celestial effect was likely a kind of mirage produced by an effect known as shearing.
Photos submitted to the The Prince George Fire Centre (PGFC) showed what looked to be a column of smoke originating from the mountainside. PGFC's fire weather forecaster said it was likely the result of a weather phenomenon known as "shearing."
"Storms originating from the Kamloops and Cariboo Fire Centres over Wells Gray Provincial Park were forced upwards by the steep mountainous terrain south of Valemount. Once the storm cloud reached a certain altitude, strong winds aloft sheared the storm, blowing the tops of the cloud in the direct of the flow aloft. This shearing effect combined with rain produced a visual that very closely resembled that of a smoke column from an active wildfire."
"We think that this, combined with the setting sun, combined to look very similar to a smoke column."
Lifelong Valemount resident Marlon Jackman said he'd never seen anything like it.
"I thought for sure that it was a fire."
Another resident Betty Hannis said the glow from the mountain was intense and included lighting strikes.
"There was a continuous glow and lightning flashes beyond the mountains. We thought a forest fire for sure."
The BC Wildfire Service thanks those who took the time to report the possible fire. Over 40 per cent of wildfires are detected by the general public.
"Early detection is crucial for initial attack success and we want to thank the public for continuing to support us with detection efforts."
Thunderstorms accompanied by lightning and strong winds are expected to continue across the Prince George Fire Centre today, which may lead to new wildfire starts. The BC Wildfire Service is asking the public to continue reporting any sign of a wildfire to 1 800 663-5555, *5555 on cell phones, or through the BC Wildfire Service Mobile App. If you use the Mobile App for the report, you can add a photo to help the response team understand what you are observing.