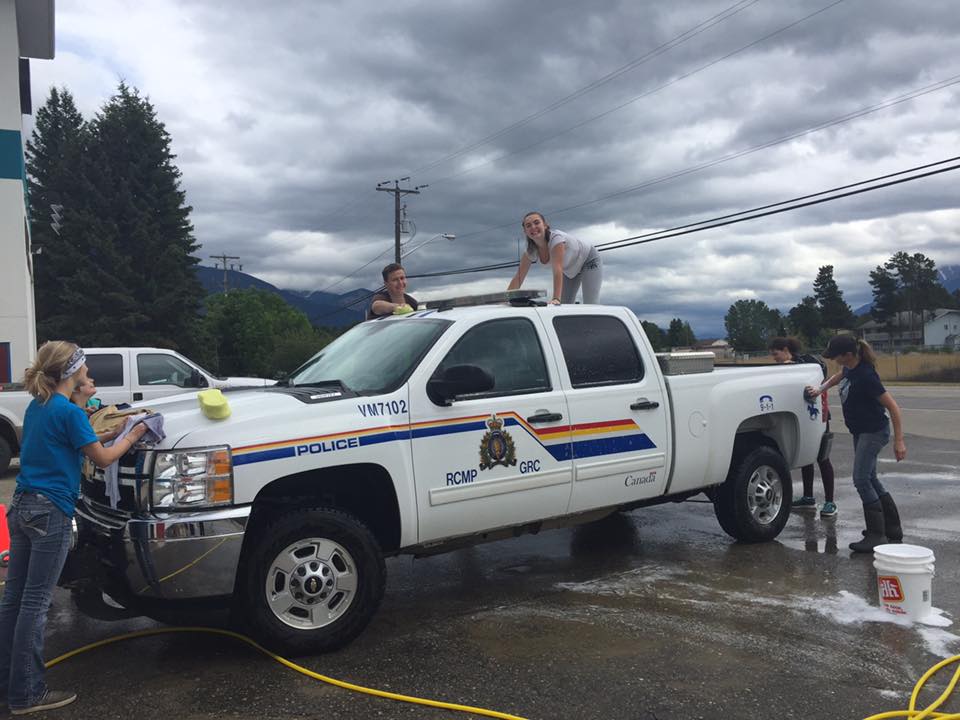 McBride Comfort Centre aids 600; firefighters shipped to Cariboos
by EVAN MATTHEWS
Though many regional districts are lifting Evacuation Orders, relatively unstable conditions mean the province isn't out of the woods yet in reference to its state of emergency.
The Robson Valley has maintained its good fortunes, as the region has no "fires of note," at 4 PM on Tuesday. But the valley's residents continue to lend a helping hand to those in need.
The McBride Comfort Centre — located at the Robson Valley Community Centre — has now provided aid to over 600 evacuees, according to organizers Diane Smith and Mabel Moore.
However, due to instruction from the regional district, the McBride Comfort Centre will be shutting its doors on Wednesday Jul. 26 at 2 PM, she says.
"We're so grateful to the community of McBride for their love and generosity to the evacuees," says Smith. "We'll open again if there is instruction, and a need."
The Valemount Anglican Church opened a Comfort Centre of its own last week, but volunteers have since shut the centre down due to a low number of evacuees. Again, if a need presents itself, organizers say they're ready to re-open the doors.
Last week, the total number of displaced evacuees was estimated at 48,000 according to the B.C. Wildfire Service, though the number has since dropped to somewhere in the 20,000 range.
Evacuation Orders have been lifted for Cache Creek, 100 Mile House, Lac La Hache and Princeton, according to the B.C. Wildfire Service, resulting in the much lower number of evacuees this week.
But it isn't just your everyday residents helping out, as some hometown heroes are getting involved in the action.
The B.C. Wildfire Service, more specifically, the Prince George Fire Centre, shipped out two Robson Valley Fire Crews to aid other local departments. One crew has been sent to Quesnel, with the other headed to Vanderhoof.
While some on scene are saying there is no imminent danger to the surrounding communities, crews are being sent to patrol and monitor the fires, while setting up guards.
One crew has stayed at home in the valley, according to the PG Fire Centre. If a fire were to break out here in the valley, spokesperson for the PG Fire Centre Amanda Reynolds says the region has a more than adequate response ready.
"The Robson Valley is being supported by five Parattack Crews who have been positioned in Quesnel, and will be called upon if needed to support the Robson Valley area," says Reynolds via email.
Last week, 53 Australian wildfire personnel arrived in Vancouver to aid firefighting efforts across the province. They joined the more than 1,600 provincial staff, 940 B.C. contractors and over 450 out-of-province personnel already actively engaged in fire suppression.
The B.C. Wildfire Service is advising all residents to stay up to date with bulletins posted on individual regional district websites.
It is important to understand the distinction between Evacuation Alerts and Orders, according to the B.C. Wildfire Service.
An alert means a warning is issued to residents, suggesting they be ready to leave on short notice. An order is issued when there is an impending risk of wildfire, and people must leave the area immediately, according to B.C. Wildfire Service.
While the Wildfire Service does not issue evacuation alerts or orders, the organization advises regional districts where and when to issue them.
As of Jul. 24, there are 157 active "fires of note" burning in B.C., two more than last week. The B.C. Wildfire Service has responded to 659 wildfires so far this season.