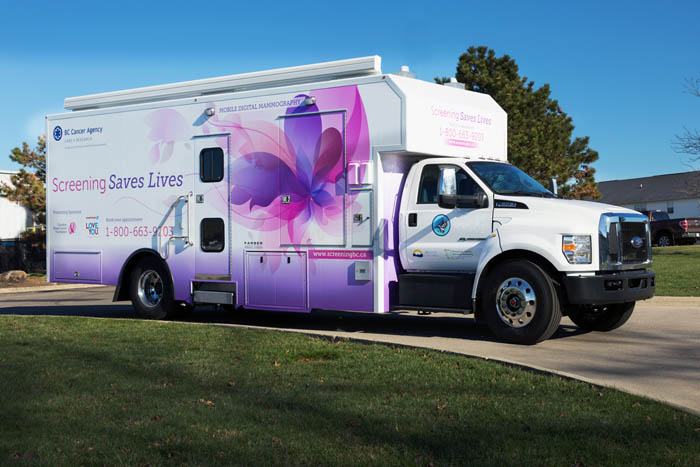 by EVAN MATTHEWS
A 25-year-old initiative is helping to identify breast cancer in its earliest stages, and it's working.
From Jul. 31 to Aug. 2, the B.C. Cancer Agency will be in McBride (Jul. 31 and Aug. 1) and Valemount (Aug. 2) with a mobile mammogram screening station. The station has all the newest technological advancements that are available at medical centres in Prince George and Quesnel.
A mobile station typically comes to the valley twice a year.
"We know there are many, many women who do not have medical testing close by," says Janette Sam, Director of Screening Operations for BC Cancer Agency's Screening Mammography Program.
She says they recommend women over 40 be screened every two years, but if they have a family history, they recommend a screening yearly.
There are 36 medical centres around the province with mammogram testing available, Sam says, and the agency is now up to three mobile units.
The B.C. Cancer Agency started the mobile mammogram screening initiative to bridge the gap between the number of people living in rural communities and adequate breast cancer testing.
"Previously, we'd set up our equipment in community centres or gymnasiums — wherever there was space, really," says Sam.
"Now we've got this beautiful mammography coach women can walk onboard, there is a waiting area, and then there is the mammography room with state of the art equipment.
"They get the same experience in their town as they would if they were to travel to a major centre," she says, noting women can still access year round service if they can't make the date and they are willing to travel.
The agency tests roughly 1,100 women each day, according to Sam, and in every 1,000 women tested she says an average of five are found to have breast cancer.
​​​​​​​​​​​​​​​​​​​​​​​​​​​​​​​​​​The purpose of a screening program is to apply a relatively simple, inexpensive test to a large number of people in order to identify those with risk factors for cancer or who are in its early stages, according to the B.C. Screening website.
"Screening is really important. The majority of women get the all clear," says Sam.
"For the women who do get called back for additional tests, and eventually find they have cancer, they can have some reassurance that they've been proactive and they've found it as early as possible.
"It allows them to get on with the treatment and get back to living a happy and healthy life," she says.
B.C. Cancer Agency suggests speaking with your doctor about the benefits and limitations of mammography, or to call the agency's toll free number 1-800-663-9203 to book an appointment.