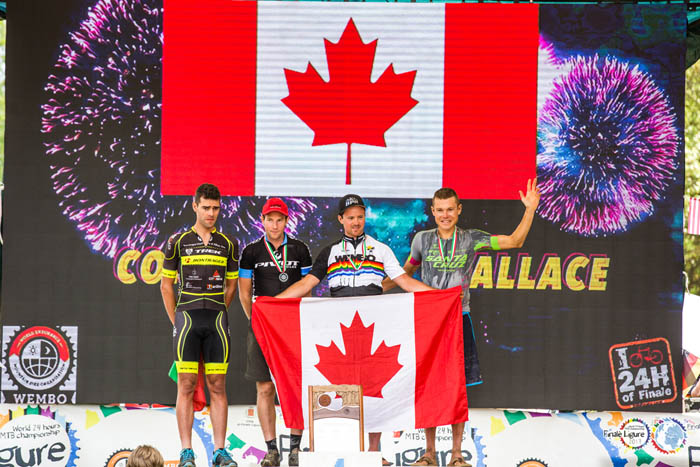 by EVAN MATTHEWS
A man born in McBride has achieved a feat he's dreamed about for years, but he couldn't dream at all in the 24 hours it took him to do it.
Cory Wallace, born in McBride and raised in Jasper, won The World Endurance Mountain Bike Organization (WEMBO) World Solo 24-Hour Mountain Bike Championship in Italy on June 4.
Some 320 racers competed in age categories.
Wallace competed against some 70 racers in the Men's Elite category, which was also the most competitive. While all the categories are ranked based on age, any rider 18 years of age or above can qualify for the elite category if they meet a set criteria.
The race is a 10 KM loop through various terrains. Each rider passes by their "pit" near the beginning of the course, giving them a chance for bike repairs, a quick bite to eat or some water.
"A big part of these races is having a good pit crew," says Wallace, a Kona team member since 2009.
"My pit crew has done 24-hour races. They know what's going on," he says, adding his lead pit crewmember is a longtime friend from back home.
Minimizing your time in the pit is key, according to Wallace, saying after you've been riding for hours and hours, the amount of effort required to make up time is just too great.
This race was Wallace's first time ever having the lowest pit time of any rider, he says.
But not everything came easy to Wallace during the race. With about six hours to go in the race, he says he got queasy. Wallace guesses he made a mistake mixing his electrolyte drink.
"I wasn't sure if I was going to make it to the end of the race at that point," says Wallace.
"I ended up eating a couple Jujubes and stale buckwheat crackers at the end of each lap to keep me going," he says.
But he did finish, and in doing so accomplished his goal of eight years.
"It was surreal, almost like it didn't happen," says Wallace. "It was pretty special when I crossed the finish line… there were like 50 photographers and thousands of fans. It was pretty wild. That's when it sunk in," he says.
Now a world champion, Wallace says biking wasn't his first choice.
Wallace raced a little bit in his mid-teens, he says, but moved away from it to pursue hockey. Once an adult, he says he came back to the sport when he was 22 and had already linked up with Kona at the age of 24.
Wallace credits Dave MacDowell with building his interest in the sport. As Wallace was coming back to biking in 2008, MacDowell was racing in the 24 Hour race in Canmore and invited Wallace down.
"A big thunderstorm came in overnight, and a lot of the Australians didn't really know how to ride in the mud. They got cold and started losing time, and I gained 10 places over night to finish in 5th place," says Wallace.
"I thought that one might be my last race because I was in so much pain, but then I realized how many mistakes I made and that I could probably win if I got my shit together," he says.
Over the last eight years, that's exactly what Wallace did.
The rapid expansion of bike trails in Valemount and McBride show grassroots growth for the sport is growing, and that will ultimately produce the next generation of champions, he says.
"Growing up in Jasper, you were always on your bike right from the age of five," says Wallace.
"It's how you get to school, it's how you get to the fishing holes, and it's how you train for your other sports. Biking was always second nature," he says.
But the best part about the sport, according to Wallace, is the community you become a part of.
"Anywhere you go in the world you're connected to the cycling scene," says Wallace.
"Show up in some random town anywhere in the world, go to the bike shop, and all of a sudden you've got friends."