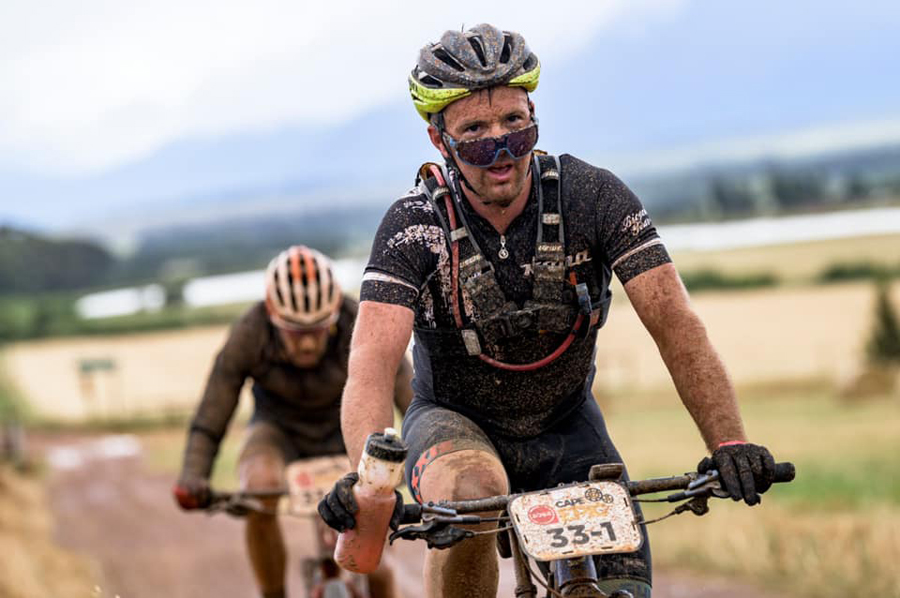 By Michael Piasetzki
McBride native Cory Wallace finally checked off one of his biggest personal bucket list challenges last week in Cape Town, South Africa.
The 37-year-old endurance mountain bike racer who calls Jasper home, has admitted openly in the past that one of his biggest dreams was to enter and complete the Absa Cape Epic endurance mountain bike stage race in Cape Town, South Africa.
It was mission-accomplished for Wallace, who likes to call himself a nomad. He finished 19th overall with partner Craig Boyes of South Africa in a time of 29 hours, 14 minutes and 55 seconds at the 2021 event, which began on Oct. 17 and wrapped up on Sunday.
The top-20 finish was an impressive feat for the five-foot-seven, 160-pound Wallace, considering this was his inaugural attempt at the seven-day stage event, which covered a total of 611 kilometres and climbed 14,900 metres.
The race was marred by all kinds of varying weather conditions, including heavy rain during stage six Saturday, resulting in riders, including Wallace, getting covered in mud from head to toe. It was won on the men's side by the pair of Jordan Sarrou of France and Matthew Beers of South Africa with a time of 25 hours, 17 minutes and 28 seconds.
If there was one word to describe Wallace's performance during the week-long race it was consistency. The three-time world 24-hour mountain solo bike champion and two-time Canadian marathon biking title holder finished 23rd on day one but improved steadily the rest of the way. He finished 19th, 18th and 17th respectively in each of the final three days of the race.
Boyes replaced Wallace's original teammate, Christian Janse Vanrenburg, who suffered a broken collarbone in practice a couple of days before the race started.
The Absa Cape Epic is considered by many endurance biking enthusiasts as one of the most gruelling and physically demanding bike races in the world. It's often been compared in terms of level of difficulty to the Tour de France, generally regarded by those in the know about endurance biking as the most prestigious stage biking event on the calendar year.