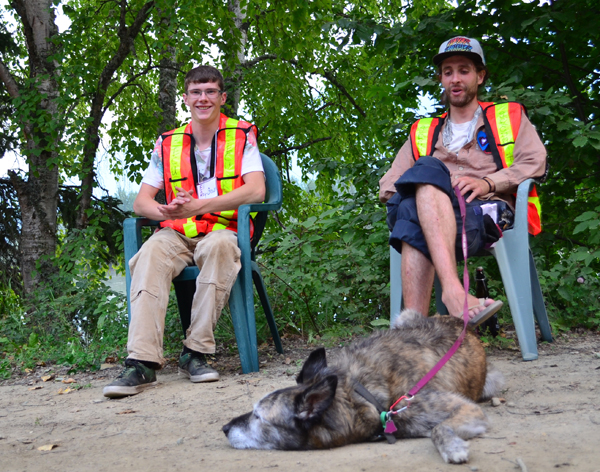 By LAURA KEIL
This weekend, organizers of the Robson Valley Music Festival hope attendees cooperate with campfire bans and waste disposal, as a heat wave grips the Valley with no rain in sight.
The music festival, happening August 11–13, is taking place on the private land of Shara Gustafson and Seth Macdonald and several relatives, adjacent the Fraser River in Dunster.
Gustafson says they are wary of the extreme fire danger and will have a strict policy when it comes to smoking, fires and cigarette butts. Smokers must stay in designated areas, for instance, and fires will not be allowed.
But it's not just cigarette butts they are hoping to control this year – the event's Green Team is aiming to eventually have a Zero Waste event and this year they are placing more recycling bins and encouraging reusable plates, cups and cutlery. The main stage is already powered with biodiesel.
"We're working towards it," Gustafson says. "It's a giant undertaking."
Organizers anticipate roughly 1000 people will participate in this year's festival, on par with previous years.
Gustafson says the music is mostly new acts who have never performed in Dunster, including the Moulettes from the UK, who did a tour of the big Canadian music festivals last summer.
"I'm pretty excited about having those guys here," she says.
There will be two new food vendors this year– Fries and Pies from Prince Rupert, and a Korean BBQ booth. The crepe stand will return along with the Valley Museum fundraiser booth.
Robson Valley Music Festival Director and Coordinator Rob Mercereau says the festival aims to be a family friendly, safe environment, noting the giant children's play area on the festival grounds.
In past years police have reported drug overdoses and violent encounters, which festival organizers are working to eliminate.
"(Drugs and alcohol) do not reflect the values we'd like to see exemplified by our festival," he says.
An outside contractor is running security this year. Mercereau says bag checks and pat downs will not be out of the question.
Local acts include Samson's Delilah, Blue Syntax, Crescent Spur, 5 Sheets to the Wind, Nathan Smith, and Nick Beddington.