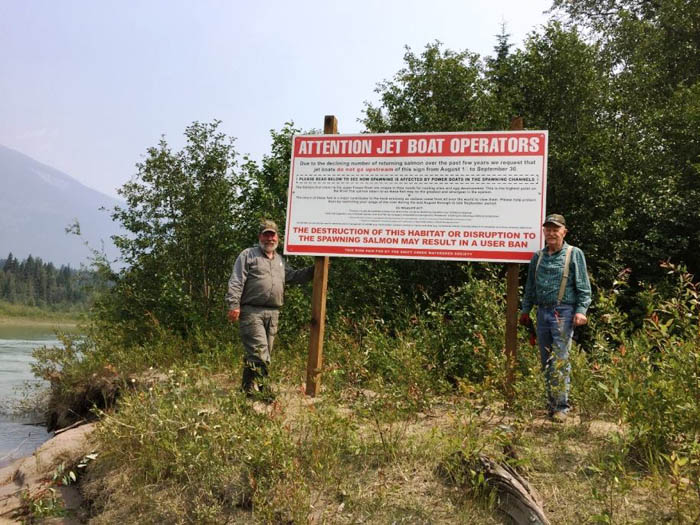 By LAURA KEIL
For years, Gene Blackman watched in dismay as jet boaters ripped through Fraser River salmon spawning grounds, potentially ruining their nests
Finally he got the nod to do something about it.
After trying unsuccessfully to talk to jet boat owners about their potential impact on the environment, Blackman took his case to the Province and got approval to install signs along the riverbank.
"This is a first step to educate and as the signs explain there can be further consequences," he told the Goat this week.
Swift Creek Watershed Society President Bruce Wilkinson says the salmon dig a nest about 18 inches deep. If a jet boat goes over, it can blow the eggs out.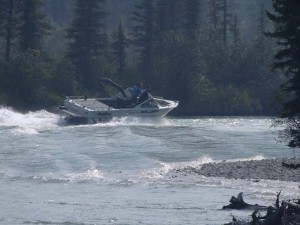 He has seen eggs bobbing along shore after boats went by. He once saw a group of 14 people on boats.
"In eight years we're not going to see any salmon," he told the Goat last year. "It's a scary thought."
The new signs are placed at the launch spots typically used by boaters – near the bus turn-around near the old Tete Jaune bridge site and at the Blackman Road Bridge at Tete Jaune.
The signs request Jet Boat Operators respect the salmon and not go upriver from the signs between August 1 and September 30 – typical spawning season.
It also warns users may be banned if it's proven they harmed fish spawning habitat.
Blackman says funding for the signs came from the Swift Creek Watershed Society. He thanks MLA Shirley Bond, and locals Bruce Wilkinson and Curtis Culp for their help.
"So far, touch wood, operators have been respecting the signs and Tete Jaune spawning channels although it's early in the spawning season," he says.
Chinook and Sockeye Salmon use the Fraser River at Tete Jaune to reach spawning grounds further up the Fraser and up Swift Creek and other tributaries. The Swift Creek spawning ground near Valemount is a huge draw for tourists.
Blackman believes the Fraser River from the old Tete Jaune bridge up to the boundary of Mount Robson Park should be banned to motorized boats for the spawning season. He says this was close to being enacted when a Conservation Officer was stationed in Valemount, years ago.
For now, his signs will have to suffice.
Any suspected violation of habitat or fishing should be recorded and reported – the date, time and location and the identity or description of the people involved. Take photos or video when possible. It should be reported as soon as possible to Fisheries and Oceans Canada's Observe, Record, Report (ORR) line at 1-800-465-4336.