By Andru McCracken
---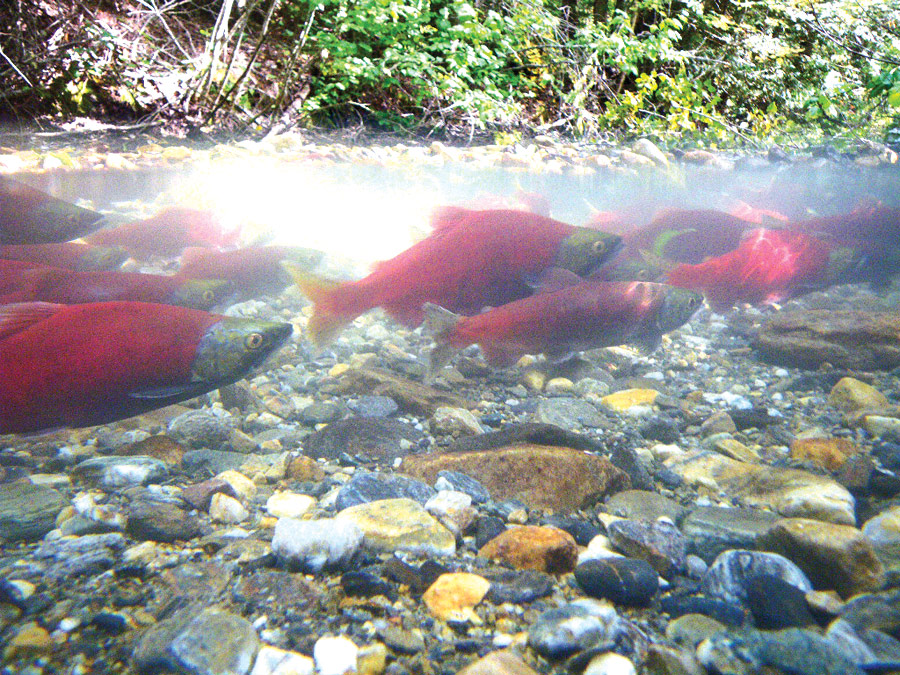 While it has been a devastating year for the Chinook salmon because of a massive rockfall that blocked the Fraser River near Big Bar, the Kokanee of Kinbasket Reservoir and particularly those that spawn in Camp Creek are doing alright although the final numbers are not yet in.
BC Hydro and the Ministry of Forests, Lands and Natural Resources have been keeping track of the Kokanee since 1998.
For many years Curtis Culp of Dunster did the work, but in 2016 Gene Blackman of Tete Jaune Cache took over.
The work is part of the Columbia River Water Use Plan project, according to Jen Walker-Larsen, Stakeholder Engagement Advisor for BC Hydro. The counts help monitor reservoir productivity.
Because the Kokanee turn bright red during spawning they are easy to see, and make for an efficient aerial survey.
A small number of fish are sampled for length, weight, sex, and age and two small bones called otoliths are extracted from the head and sent to the Provincial Aging Lab operated by the Freshwater Fisheries Society of BC.
"This work provides an annual index that feeds into the overall population assessment and helps us understand what is happening with the Kokanee population," said Larsen.
Kokanee numbers and sizes can vary quite considerably and often change cyclically.
The number of Kokanee in Camp Creek varies from 5,000 to 25,000 depending on the year and the average size has ranged from about 22cm to 28cm, with a correlation between population and size.