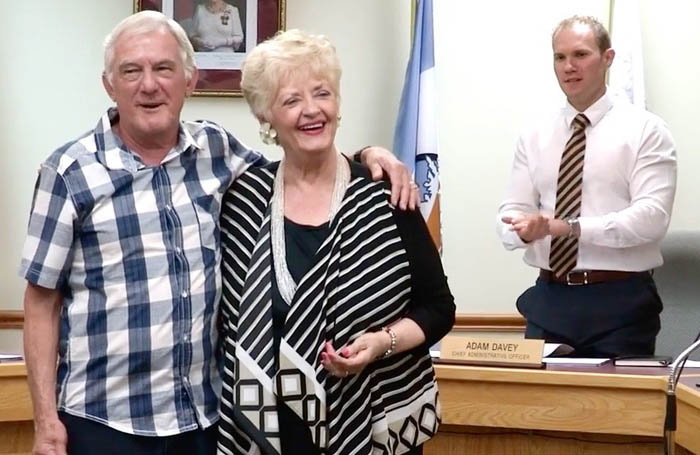 by EVAN MATTHEWS
For his years of service on the Columbia Basin Trust's (CBT) board of directors, Valemount Council took time to recognize Bill Kruisselbrink.
Kruisselbrink was the first non-elected official to ever serve on the CBT Board of Directors, and stayed on with the CBT Adjudication Committee afterward.
Kruisselbrink says he is now leaving his position on the CBT Adjudication Committee.
At the Jul. 11 Council meeting, Valemount Mayor Jeannette presented Kruisselbrink with a small gift on behalf of the Village Council.
"I want to thank you for all the years you've served on the board," said Townsend.
"Council really appreciates the fact that you were one of the first members to serve on the adjudication community… We're sorry to see you go," she said.
Kruisselbrink joked to Townsend, saying she has no say in the matter.
"It's been a pleasure, for the most part, working there for all those years," said Kruisselbrink.
At the meeting, Kruisselbrink thanked Mayor Townsend for the initial opportunity to serve.
The various community members who have served alongside Kruisselbrink should be credited, too, with their positive attitudes and diligence in assessing and prioritizing which community projects are deserving of funding, he said.
"It's been wonderful," said.
-30-
PULL QUOTE: "I want to thank you for all the years you've served on the board. Council really appreciates the fact that you were one of the first members to serve on the adjudication community… We're sorry to see you go," — Valemount Mayor Jeannette Townsend