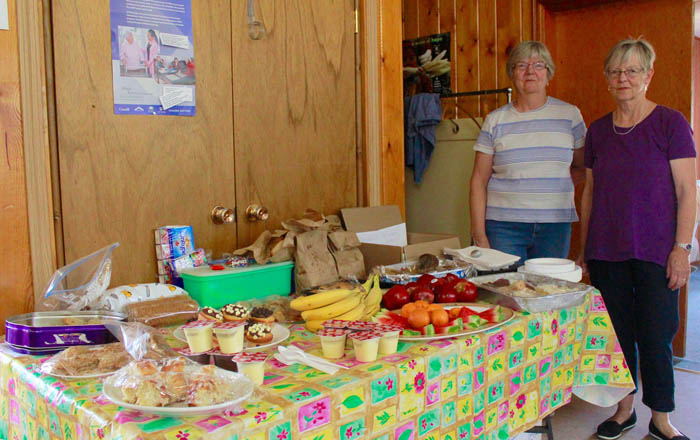 by EVAN MATTHEWS
While much of the B.C. Interior continues to burn, the Robson Valley remains fortunately unaffected, with no major fires listed as of presstime. But the number of fire evacuees travelling through remains high.
Evacuees from other parts of B.C. have found themselves seeking refuge in the valley.
Emergency Management B.C. estimates the number of evacuees now displaced by fire to be as high as 48,000.
Both McBride and Valemount now have established "Comfort Centres" where evacuees can stop in and eat, drink and rest.
McBride's Comfort Centre is located at the Community Centre, and Valemount's is located at the Anglican Church. Both centres are open from 9 AM to 9 PM daily..
Comfort Centres are not official Emergency Evacuation Centres, and every evacuee must check in at an official site. Evacuation centres are located in Prince George and Kamloops.
In response to exhaustion of B.C. and Canadian wildfire personnel, the Province announced yesterday a contingent of specialized Australian wildfire personnel will be coming to B.C. to assist with the fires.
About 50 wildfire personnel, including a combination of officers and technical specialists, are scheduled to arrive in Vancouver on Wednesday, Jul. 19. The Province says personnel will be deployed throughout the province, based on current and anticipated wildfire activity. They could remain in B.C. for up to 38 days, and the Province will be picking up the cost to bring them in.
Australian personnel will join more than 1,600 provincial staff, 940 B.C. contractors and over 450 out-of-province personnel already actively engaged in fire suppression in B.C., according to the Provincial Government.
There are currently 155 wildfires burning in the B.C. interior, according to the B.C. Wildfire Service, while four of B.C.'s 29 regional districts remain under either evacuation alerts or orders: Cariboo, Thompson-Nicola, Okanagan-Similkameen and Bulkley Nechako.
Due to the high volume of evacuation alerts and orders — too many to list — the B.C. Wildfire Service is advising all residents to stay up to date with bulletins posted on individual regional district websites.
It is important to understand the distinction between evacuation alerts and orders, according to the B.C. Wildfire Service.
An alert means a warning is issued to residents, suggesting they be ready to leave on short notice, but it is not mandatory to leave the area. An order is issued when there is an impending risk of wildfire, and people must vacate the area immediately, according to B.C. Wildfire Service.
While the Wildfire Service does not issue evacuation alerts or orders, the organization advises regional districts where and when to issue them.
The Province stated in a press release Tuesday that the large fires affecting 100 Mile House and Williams Lake are now stable, and local leaders and politicians in 100 Mile House are working on plans to get people back home. A return to Williams Lake is still a ways off, the Province says.
Last Friday, a tongue of the Thuya Lake fire — southwest of Little Fort — worked its way downhill Friday afternoon, getting perilously close to the only transmission line that services the upper North Thompson Valley and Robson Valleys.
Fortunately, the valley has not yet lost power due to the fires. A brief outage in Valemount the morning of July 14th was due to a bird, not a fire.
Meanwhile the evacuation order for Cache Creek was lifted on Tuesday at 3 PM and residents can begin returning home.
The B.C. Wildfire Service has responded to 657 wildfires so far this season.