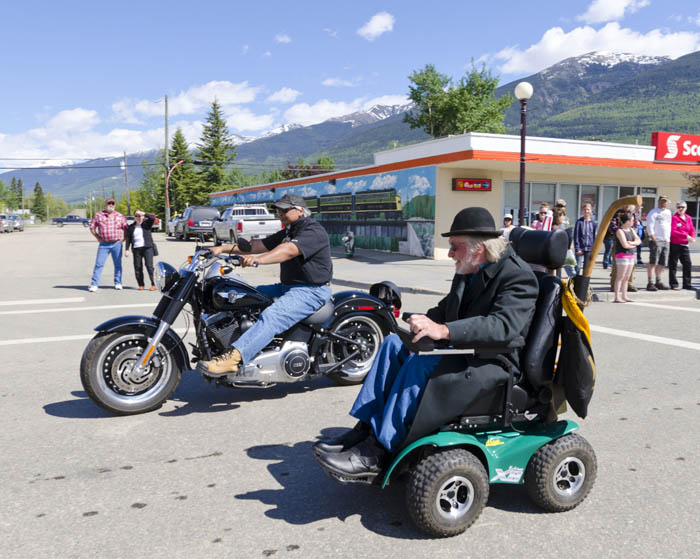 by EVAN MATTHEWS, with contributions from Matthew and John Wheeler, Jennifer Ford, Randy Klohn, and Glen Frear
Independent in many respects of his life, it is Robert Frear's warm smile and genuine caring nature people will mostly remember.
Ranging from his local newspaper coverage, his tinkering in mechanics, drag races down Main Street, or forays on social media, Frear was a trailblazer.
Frear died the morning of Jun. 15, 2017 at the age of 71, after a short bout with liver and pancreatic cancer.
Always a local at heart, Frear was born Sept. 24, 1945 at the Red Cross Hospital in McBride. He grew up on his parents' dairy farm — Riverside Dairy — west of McBride.
In approximately 1964, Frear's father and older brother were killed in a slide, pushing Frear to be independent and innovative.
Frear's mother lived well into her 90s, however.
Shortly after the deaths of his father and brother, Frear took his first job at McBride Motors, which is where he connected with longtime friend, Randy Klohn.
"Robert always had a gentle nature, constant smile, and dry sense of humour, but he was tough as nails," says Klohn.
"He was extremely talented and moved through the garage system from bookkeeper to parts man quickly. He was brilliant at everything he did," he says, noting his love for mechanics extended from cars to dune buggies; he also owned one of the valley's first computers.
"While Robert may be gone, he will certainly never be forgotten. Rest in peace old friend," — Randy Klohn, longtime friend of Robert Frear
Over the next 53 years of their friendship, Klohn says the two conquered the mountains in the McBride area, finding long lost trails and discovering hidden lakes.
But their friendship extended beyond mountain adventures and the mechanic's shop, as memories like Neil Armstrong's 1969 lunar walk stands out.
"This was before the days of TV in McBride," says Klohn, noting Frear had been determined he'd see the event, and invested in a black and white television specifically for it.
After researching and rigging, Klohn says Frear and his group of friends were the only people in McBride to take in the event live, though on a less than spectacular home theatre system.
In the 70s, Frear took over the reins as editor, reporter, photographer and advertising salesperson for the Robson Valley Courier. Matthew Wheeler says Frear was never afraid to delve into a new challenge. Frear's love for storytelling was prevalent throughout his life, according to those who knew him.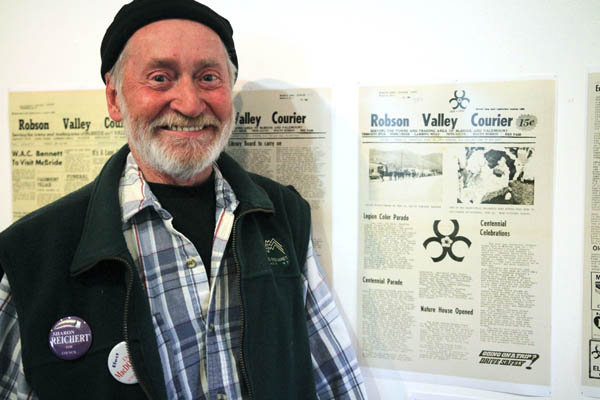 Klohn says when he left the valley to pursue a flying career, he joked with Frear that he'd be retired by 30.
"In true Robert Frear trailblazing fashion, he looked me straight in the eye and said, 'I have a better idea. I am going to retire right now and only work when I have to and want to,'" says Klohn.
And Frear did just that, as he left the garage and became a licensed log-scaler.
It was also around this time Frear obtained his pilot license, and began to enjoy flying as a hobby.
"He had dreamt of one day getting a Cessna Cardinal (aircraft) — he recently found the brochure and gave it to me — he was able to go flying with me several times in my Cardinal," says John Wheeler, a fellow pilot.
"He had one crash while out doing a check ride in the McBride Flying Club's Piper when it got hit by a microburst (or similar weather event), and ended up in Jack Long's field. He didn't seem too worried about it," he says.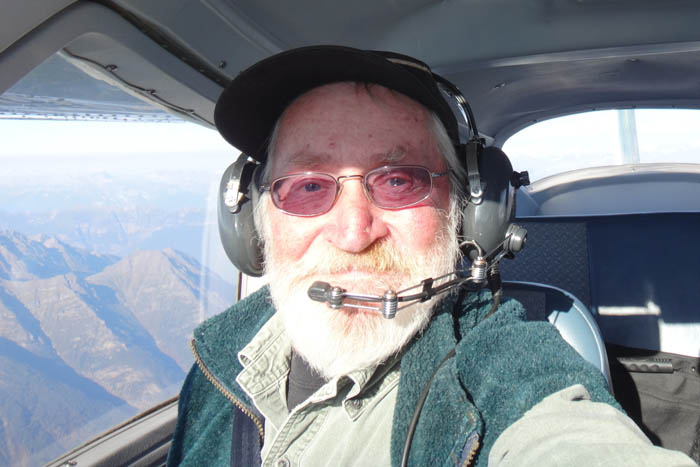 Later, Frear joined Castle Creek Forest Products and the Zeidler Veneer Mill to get his start in forestry. Though always neighbours and lifelong friends, this is where Frear truly connected with the Wheeler brothers, Matthew and John.
"It was there I came to know of Robert's love for machines and mechanisms," says John.
"Robert would often be working on the mill with Bob Johnson, the owner, after the shift went home and we were doing cleaning," he says.
With his experience in logging, ultimately Frear was hired by the Ministry of Forests, which eventually resulted in a 1995 promotion to the top log scaling position in the Ministry's revenue branch, in Victoria.
Shortly after his retirement, he experienced a stroke in December 2004 and he was hospitalized for three months.
The stroke left Frear with impaired speech and motor skills.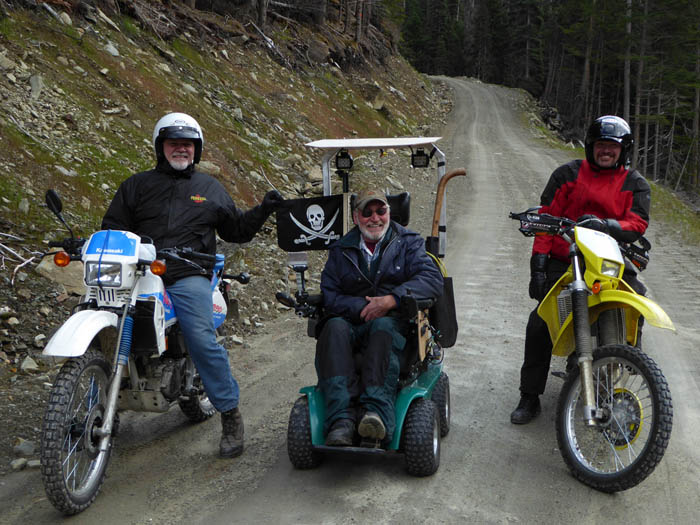 Often seen with a pirate flag trailing in the wind behind his motorized scooter, Matthew Wheeler says the flag was a symbol of Frear's rebellion to the impairments his stroke had caused.
With much help and a lot of personal hard work, Frear aimed to regain full speech and mobility, and did, with his right arm being the exception.
A gifted writer and storyteller, Frear relearned how to write, but this time with his left hand.
"He was fortunate to have such patience, as every little task… became a dance of dexterity," says John Wheeler.
One of Frear's most recent accomplishments is the Valley Museum Living Legacies Facebook page, which he started in 2014 and now has 779 members.
"He was a Facebook superstar," says friend Jennifer Ford.
"The site gathered momentum from the very beginning, attracting hundreds of former and present day Robson Valley residents," she says, noting dozens of members are currently sending memories of Robert and condolences to the family after hearing of his passing.
A lot of Frear's last (three) years were spent meticulously restoring his parents' red 1957 Buick, with the intent of driving it in the 2017 Pioneer Days Parade.
Though Frear never got the truck to the point of putting it in the parade, Matthew Wheeler says he had much of it restored to factory condition. During the deterioration of Frear's health, friends put the Buick on a flat deck and — along with several other floats — deviated the parade's route to drive by his hospital window.
"While Robert may be gone, he will certainly never be forgotten," says Klohn.
"Rest in peace old friend.