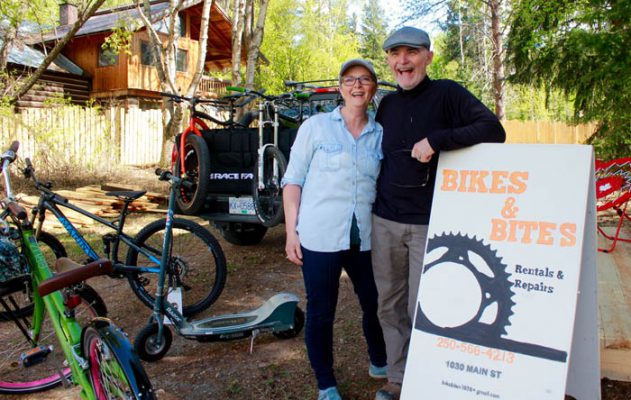 by EVAN MATTHEWS
Valemount will see a second business start up this summer related to the bike park.
Debra and Jeff Jewett moved to Valemount from Calgary — where they lived for 20 years — to escape the hustle and bustle of the big city.
"We were settling in, and we realized there was no bike shop here," says Jeff. "We talked with people around town, and we thought maybe the idea of renting bikes would work too.
"There is lots of tourism and people coming through, and I love bikes," he says, adding he's been doing lots of riding at the bike park himself.
Located right beside the Swiss Bakery, the couple decided to set up shop at 1030 Main Street. The pair intends to develop a multi-purpose facility acting as their home and as their storefront, according to Jeff.
"It's zoned for both, so we're going to do it."
Customers may come in looking for rentals or repairs, but the pair says everyone is welcome to stick around for an energy drink or protein bar.
Though it'll take some time to construct the permanent building, they are aiming to start renting bikes in June. Currently, he has a small workshop on the property to repair and rent bikes out of, and he is mobile in his truck to do quick fixes right at the bike park.
"We just love to have fun. We love the whole aspect of getting outdoors to play and to enjoy life," — Jeff Jewett, Bikes and Bites co-owner
Bikes and Bites has a few different brands for customers to choose from with Marin, Giant and Moose bikes all in stock, while ranging in style from cruisers, to downhill and mountain bikes, to long-boards, kick scooters and even a motorized scooter. There are even a couple striders for young children, Debra says.
"We just love to have fun," says Jeff. "We love the whole aspect of getting outdoors to play and to enjoy life."
Interestingly enough, the two found Valemount in what may not be a totally uncommon theme this year: overflow.
As will likely be the case for many people this year during Canada's 150th Celebrations, Jeff says they actually found Valemount last summer when Jasper had no available campsites.
Shortly after, Jeff says he found himself in Valemount and found himself in aw of Valemount's beauty. Debra vowed she would move to Valemount during the couple's first stay.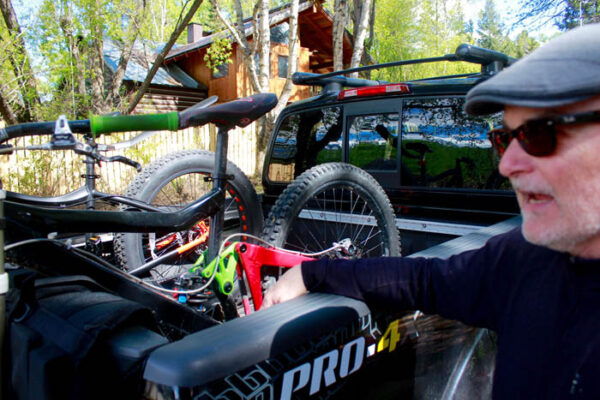 "We started working out what we could do here," says Jeff, a former student advisor at Southern Alberta Institute of Technology and Mount Royal University. Debra spent her career in Calgary in the field of Occupational Therapy.
One of the pair's favourite bike rental and repair shops they've come across over the years is in Sedona called Bike and Bean, he says. Using the concept as inspiration, he says he hopes to add value to the mountain community here in a similar way.
"I'm going to see how I can help out the community," says Jeff.
"We've been on some good trails — Sedona really is amazing — but these ones are even nicer," he says.
While Jeff says the business is in no rush and has plans to start small, he also hopes now is the perfect time with the park expanding and more folks coming to town specifically for the bike park.
Someday soon, he says he'll be putting on bike repair workshops in the evening.
For mobile repairs he says to call him at 250-566-4213.
Also starting up this summer, PEAK SHUTTLES will begin shuttling bike park users in Valemount Jun. 2.