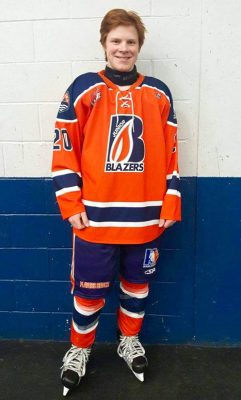 by EVAN MATTHEWS
A local boy is working hard to develop his hockey skills to an elite level, and it's starting to pay off.
Valemount native Braden Smith, a 14-year-old 5'8 140 lbs. defenceman, has made the cut for the B.C. Under-15 (years old) tournament.
"Making the U15 team is cool," says Smith. "I get to see where my game matches up against other kids my age."
Players try out from five different B.C. regions to play in the U15 tournament including the Lower Mainland, Okanagan, Vancouver Island, Kootenay and the North, and typically only 160 players make the cut.
"About 20 kids made it from the North this year," says April Smith, Braden's mom. "Two goalies, and 18 skaters," she said.
Smith is currently playing for the Kamloops Junior Blazers Spring team. The Junior Blazers' Head Coach Chris Murray says Smith is a "fantastic skater with a powerful stride and breakaway speed," but it's his off-ice presence that provides him an advantage, as Smith's teammates describe him as likeable and selfless, Coach Murray says.
"It stands out to me that Braden is always polite and upbeat," says Murray.
"Before games and practices he is always smiling and appears eager to learn when I address the team. He's very coachable, determined, and humble," he says.
As part of the U15 event, B.C. Hockey and the Western Hockey League (WHL) combine it with testing to assist players with skill development. Players' results provide WHL coaches and scouts with a database ranking the players, while identifying key areas of each player's game to improve upon, the website reads.
"Playing in Valemount is fun… but I can't push myself to be a better player. My goal is to play junior hockey in a few years," — Braden Smith
Braden has all the makings for scouts to take notice of him, according to Murray, but perseverance will be the key.
"How far hockey will take him is in his hands," says Murray. "Braden is entering the age where sacrifices will need to be made."
The Junior Blazers are a youth hockey development program — separate from the U15 team — designed to help kids reach their maximum hockey potential, according to the website.
"It takes me some time every year to catch up to speed with the other kids every spring because they play way more games," says Smith, pointing to a Valemount local minor hockey's limited number of players and games per season.
He says his goal is to play junior hockey in a few years.
"Playing in Valemount is fun… but I can't push myself to be a better player."
Though the family hasn't had to make too many sacrifices for Smith's hockey to date, Valemount Minor Hockey's low turnout may force the family to re-evaluate their options, according to Braden's dad, Kurt Smith.
"For him to grow and be able to compete to his level we might be forced to look at options out of town," says Kurt.
"The average team plays 40-60 games a season, whereas we're limited to 12-16… It's really hard to compete and develop in order to keep up with everyone else," he says.
While it may take him a little bit of time to catch up to other players in the spring, Smith isn't showing any signs of struggle, as he carried much of the offensive load for the Junior Blazers through their Spring tournament.
Smith scored a hat-trick — three goals in one game — during the round robin tournament.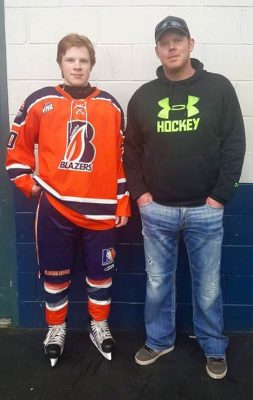 In the semi-finals, while the Junior Blazers were playing the Vancouver Selects, the game was tied 0-0 after three periods. In overtime, Smith scored the winning goal to take the Junior Blazers to the finals, ultimately with the team losing in the finals to take home second place.
Smith finished the tournament with five points in the round robin — two assists and three goals — and scored one goal in the playoff round.
"I've seen a huge improvement in (Braden's) game on and off the ice," says Kurt, who has been coaching him since Tykes.
The Junior Blazers aren't done just yet, as the team is planning a trip to Europe for the beginning of August.
The B.C. U15 tournament is happening May. 11 – 14, and will be held in Penticton, B.C. Smith will be playing for Team B.C. Black.
Smith's first game in Penticton will be Friday, May 12 at 4:15 PM.