by EVAN MATTHEWS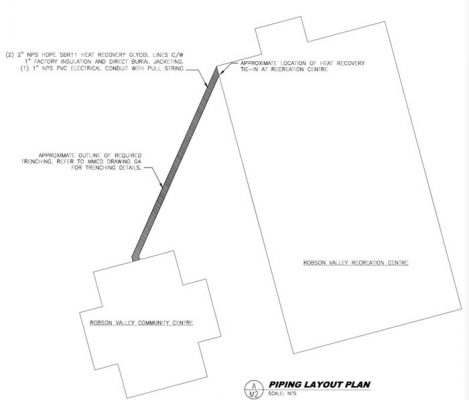 The regional district has awarded a tender for an inter-connected heat transfer system between the Robson Valley Recreation Centre and the Robson Valley Community Centre.
The system will allow for excess heat generated by ice making in the arena to be captured and used to heat the buildings, according to the district.
The tender was awarded to CIMCO Refrigeration for $116,404, according to the district, and project cost will be offset by a grant from the Canada 150 Community Infrastructure grant program.
The heat will be transferred via a underground pipe, according to a regional district report, the contractor must supply pictures of all underground works in the utility corridor, prior to backfilling.
"Based on the experience we have with this system on the arena side we are anticipating a 50 per cent decrease in heating costs in the community hall," says the Regional District of Fraser-Fort George's (RDFFG) General Manager of Community Services, Donna Munt.
The Regional District will inspect the work before making payment, according to a report.
Fifty per cent of the funding up to $62,600 is funded through the Canada 150 grant, Munt says.