by EVAN MATTHEWS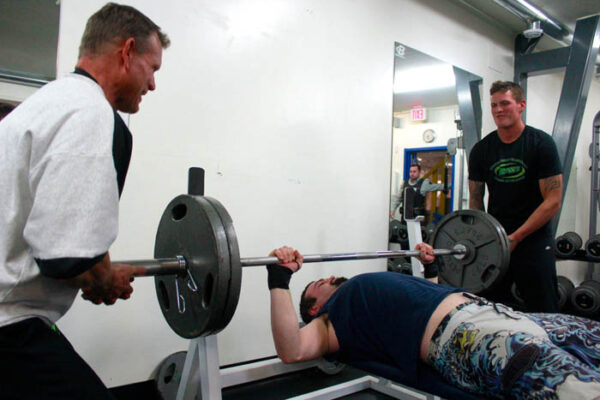 Valemount, get ready for some added chest pump.
Steve Barnes of Dynamic Weight Training has donated a bench press station to Valemount's fit pit.
"A good friend of mine donated some steel," says Barnes, noting it came in the form of an old universal chest press — a completely different set up.
"I cut it up into pieces, and welded the whole thing," he says.
Many of the gym's users have expressed the need for upgraded equipment specifically targeting the chest, back, and a power rack (used for multiple muscle groups).
The much needed bench press station will add to many users' chest workouts.
"It was mostly Gage (Ringer) that inspired the idea, and Kyle (Marchetti)," says Steve Barnes.
Ringer and Marchetti told Barnes that they bench pressed in the gym, but without a set of uprights and stirrups — using each other as spotters due to not having an actual bench press station — leaving nowhere for them to rack the weight at the end of a set.
"I've seen a pretty bad accident a long time ago from guys doing that," says Barnes.
"The chances of an accident with sweaty hands… somebody could have been hurt, so that's why I did it."
In a celebration and unveiling of the new equipment, Barnes hosted a bench press competition on Friday, Mar. 28.
Gage Ringer and Chris Gallant tied in lifting the heaviest weight, putting up 325 lbs. each on a flat bench, with a few others walking away with personal bests.