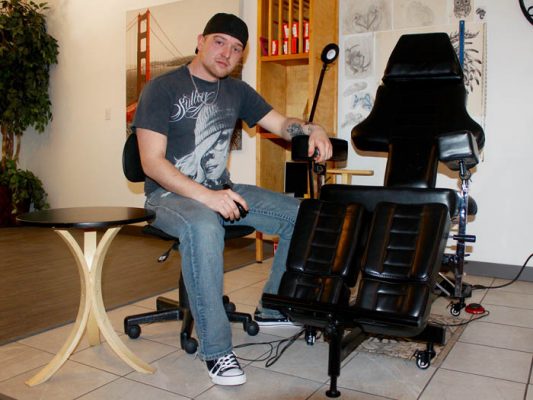 by EVAN MATTHEWS

A local tattoo artist is making his mark on Valemount.
Jesse Lewis, 25, is the owner of Lewcid Ink, the village's first tattoo shop, which is located in the Trading Post building on Main Street.
Lewcid Ink recently passed all its health inspections, meaning clients can now book appointments to get some ink.
Having been an artist his entire life, Lewis says he started with pencil drawings and sketches, even winning a few awards and designing his high school's yearbook in his senior year.
While searching for direction in his professional life, Lewis says he wanted to incorporate drawing into his everyday routine.
"It's always been a big part of my life, so I figured, 'why not?'" says Lewis, noting the jump from pencils to tattoo machines was a big leap.
"I care about what people want. We're working together rather than me just hoping for the best," – Jesse Lewis, owner of Lewcid Ink.
Following the natural progression of many tattoo artists, Lewis says he was gifted his first tattoo kit — a starter kit — which was followed by a visit to the local butcher.
"I was literally practicing on thawed out pig skin for close to six months," says Lewis.
"Just making sure my lines were good… a friend of mine said, 'wow, you should try this on me,'" he says, adding the first tattoo came out great.
There was no turning back from there, Lewis says word of mouth referrals have created a buzz about Lewcid Ink, and he's now done roughly 300 tattoos.
Often the work of young trial-and-error tattoo artists can result in mistakes such as scarring or blowouts, Lewis says, but he's never had a customer return for either issue.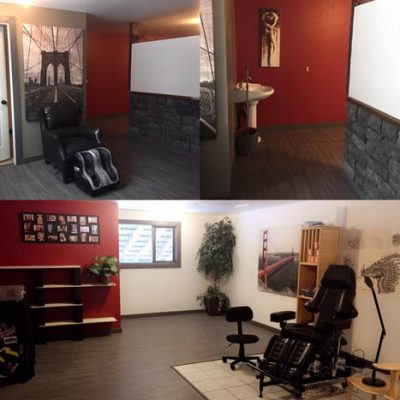 The hope, according to Lewis, is that as the Village gets busier with projects such as Kinder Morgan's Trans Mountain Expansion and Valemount Glacier Destinations' Resort, Lewcid Ink will get busier.
The first of anything sets a precedent, and Lewis says being the first tattoo shop in town means he's working to make sure people don't get the wrong idea about tattoos.
"I want people to see it's not just about gangs and bikers, etc.," says Lewis. "Tattooing is a beautiful form of art… it's not just about being a badass."
Lewis' personal favourite tattoos are cover-ups, he says, as many of his customers come in wanting to cover-up previous works or scarring.
One of Lewis' customers came in with a tribal piece she wasn't happy with, so he designed various floral patterns, he says. The two worked together to place the sketches on her body in order to map out what she liked.
"I care about what people want," says Lewis. "We're working together rather than me just hoping for the best."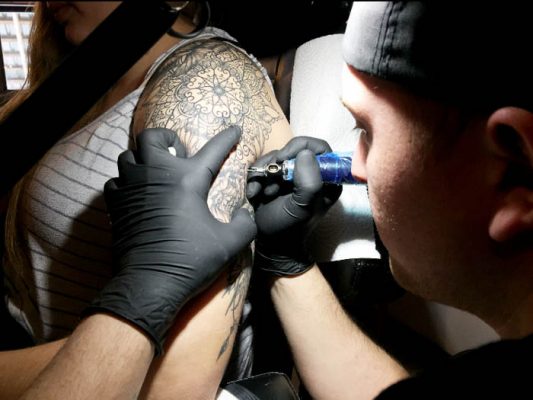 Taking the notion a step further, Lewis says he's noted online movements dedicated to self-harm awareness and how self-harm can affect body image later in life.
He says he's prepared to do a giveaway every so often for scar cover-ups, specifically for self-harm, in order to give back.
"I'm happy to help (people) with that," he says.
Another artist — a piercer — may work with Lewis this summer, he says.
Those looking to book appointments with Lewcid Ink can reach Lewis at 566-1607, or find Lewcid Ink on Facebook or on Instagram @lewcid_ink.