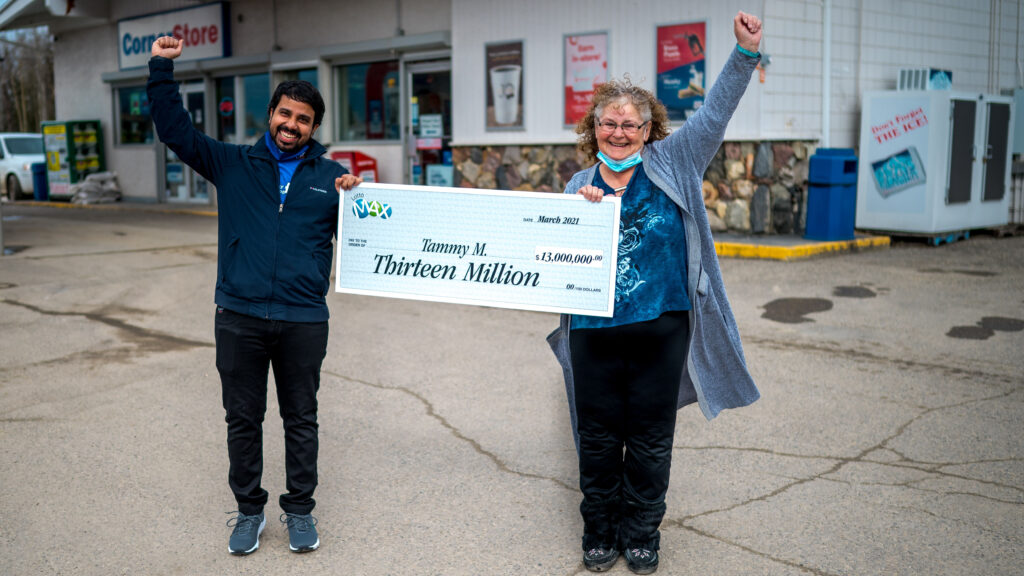 By Laura Keil
When McBride resident Tammy Manning, 61, left her house to go to work March 19, 2021, her partner reminded her to grab a lottery ticket.
It was a good thing he did. Manning's ticket won the couple $13 million in the Lotto Max lottery.
She bought the ticket from McBride Husky/Esso and chose her numbers using the Quick Pick option. Her ticket was the only one in Canada to match all seven numbers in the mid-March draw.
"We're going to spend our winters in warm weather when we can, and we're going to help family members and pay off our house and hopefully live a quiet life," Manning said in an interview with the Goat. The 61-year-old also plans to retire early. She most recently worked at McBride's Sandman Hotel and Heartland Restaurant.
Manning said she is having "March 19, 2021" the Lotto Max draw date, permanently etched onto her arm by her son, a tattoo artist. She told her son about winning while he was at work.
"He said 'there's no way mom—no you didn't!'"
Manning didn't believe it at first either.
"All I said was 'No!'" Manning recalls. "I just didn't believe it and kept saying 'No!' to myself. I had to have the retailer check the ticket on his machine."
Amber Bhaskar, the lottery retailer at the McBride Husky/Esso, was there when Manning checked the ticket on the self-checker.
"When Tammy validated her ticket… she was about to fall down," Bhaskar recalled. "She's a loyal customer since we moved here – it's really happy to see somebody winning from the local town."
When asked if life had changed for them since they won, Manning said "not really."
"It's just stressful knowing that we have that much money. But we haven't changed, no."
Manning has a few ideas about how she plans to use her mind-boggling prize. Her first priority is paying off her house, and next perhaps purchasing a property in the Caribbean along with a sailboat for her and her partner to enjoy. Their last sailboat was destroyed by Hurricane Irma in 2017.
They will also use the money to book physiotherapy and other treatments for Manning's partner, who's been sick.
"Get him healthy, so we can go sailing," she said.