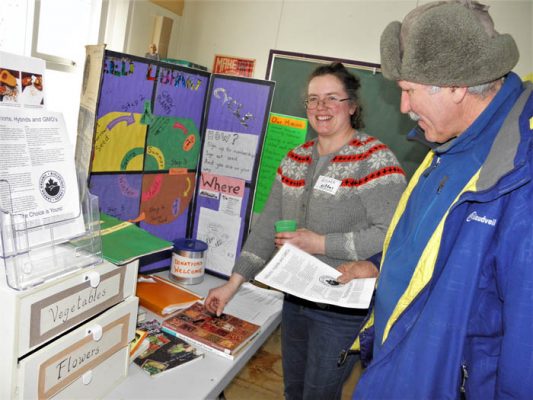 by MONICA MARCU AND MIKE PODINA
"Don't judge each day by the harvest you reap, but by the seeds that you plant," said Robert Louis Balfour Stevenson, a Scottish novelist, poet, essayist, and travel writer.
And in true fashion, over 50 people attended Dunster's Seedy Saturday Mar. 4th — an event deep with philosophical and spiritual roots — in order to plant the seeds of knowledge while learning about best plant growing practices.
Some 50 people from all corners of the Valley — Dome Creek, Crescent Spur and Jasper — had exhibits of tools, seeds and books, and delicious treats from home-grown veggies.
Others taught or took classes such as growing onions and corn adapted for our climate.
Saving heirloom seeds and describing differences between heirloom and hybrids or genetically modified plants were main topics of the day. Veterans in farming, with decades of fruitful experience, gardeners and apprentices were sharing experiences and seeds, stories of success or failure, and funny anecdotes.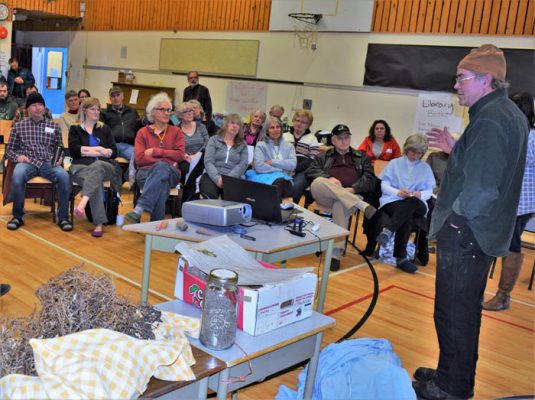 Rosara Buck, who also had a colorful, inviting display, introduced the McBride Seed Library, one of many local initiatives meant to encourage food growing and sustainability.
Pete Amyoony brought his impressive collection of tomato seeds and a long list with hundreds of tomato types — some rare and almost lost types from the 1800's — and their specific characteristics. His knowledge of plants and care for them seems to be endless, as one could listen forever as he explains best practices. The goals of the event and organizations like the "Open Gate Garden" (McBride) are to foster a network of skilled farmers and seed stewards, teach the younger generation, develop a source of open pollinated seeds/plants adapted well to our climate, and support families to grow local, nutritious food.
Anybody can participate, borrow seeds from the library, grow the plants, harvest, and eventually return similar or better seeds of acclimated crops of which we can all benefit.
After all, seeds should be a public treasure and resource.