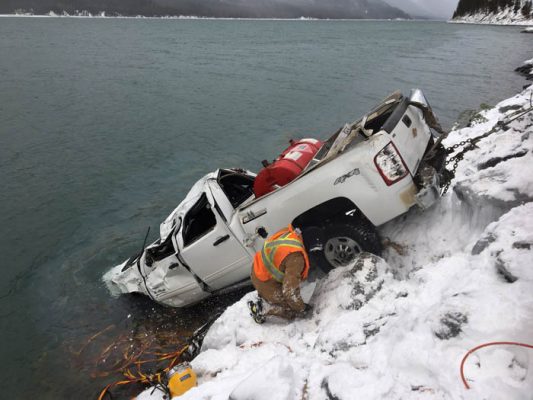 by EVAN MATTHEWS
The truck started rolling down the hill.
"I remember the glass breaking, the steel bending and breaking from hitting the rocks, and the sound of the trees breaking," says 36-year-old Ryan Bremner.
"I remember thinking, 'Oh my god. I should be dead.'"
Bremner owns Northface Ventures Ltd, a subsidiary of Clusko Logging. Though from Kelowna, Bremner says his company does work for Canfor operations in Clearwater and Vavenby.
Canfor had some work in Valemount, bringing Bremner on as the supervisor for the logging operation, some 68km down the East Canoe Forestry Service Road (FSR) along Kinbasket Reservoir.
On Dec. 14, as the -25 degree work day wound to a close, Bremner decided to leave work slightly before his crew in order to take care of other business in town. The sun had already tucked itself behind the trees as Bremner drove a Chevy crew-cab work truck down the FSR.
As he approached a corner, near KM 27, catastrophe struck. He realized he wasn't going to make the corner because of road conditions.
The heavy-duty logging trucks pack the snow on forestry service roads, and turn the roads into what is essentially hard-packed ice.
There was no berm on the corner, and the road leaned down toward Kinbasket Lake.
"There was nothing I could do to stop the vehicle from going over," he says.
The truck went over the bank. He hung onto the bottom of the steering wheel with both hands. Luckily he was wearing his seat belt.
Bremner estimates the truck rolled between five and eight times, the first roll on the ground, and — because of the steep incline — every second roll would be in the air before hitting the ground again, he says.
When the truck finally came to rest — 150 feet later — at the bottom of the hill, it was wheel-side down, the way it should be, but the hood was already in the lake.
"As soon as I realized I was done rolling, I undid my seatbelt, but I literally had a second or two to take a deep breath because water started gushing (through) both the driver and passenger windows because everything was broken," says Bremner.
"The next thing I know, I'm getting sucked into the lake with the pick-up," he says.
"I remember thinking, 'Oh my god. I should be dead,'" Ryan Bremner
As his truck descended deeper into Kinbasket's darkest depths, it was in those moments that the father of two decided he wasn't ready to die.
It was dark and he was holding his breath, Bremner says, but he managed to get his head and part of his shoulders out the driver side window.
"But I was caught," Bremner says.
"I was wearing my snowmobile jacket and pants, steel toe boots and a high-visibility vest. My vest was hooked onto the window, or a piece of steel from the crash, so I was hung up," he says.
Pushing his right leg against the centre console to break free, Bremner ripped the vest and had enough power to push himself out of the vehicle, he says.
In the days following the accident, a deep-water rescue crew went to the crash-site to retrieve the pick-up, Bremner says, and measured the truck 45 feet underwater.
The only reason the truck didn't descend deeper, according to the deep-water rescue crew, is because it got hung up on two large rocks.
Now free, but 45 feet under the lake's surface, Bremner says he kept swimming until he could feel the air on his face, and made sure not to let go of what little air he had left in his lungs.
"When I felt the air on my face I realized I could finally take a breath," says Bremner, saying his total time under water felt like an astonishing three minutes.
"I had never been so deep or held my breath for so long. But I wasn't giving up," he says.
At the surface, the struggle wasn't over. Bremner was still 30 feet from shore and his left shoulder was in serious pain.
"I knew something was wrong," says Bremner. "I couldn't use my left arm to swim to shore, so I was using my right arm and my legs, yet I was still in my gear, so I was really heavy."
Despite all odds, Bremner got to shore and climbed out of the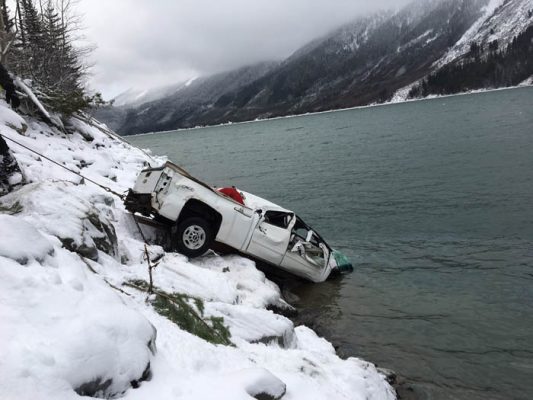 water onto a rock, but he still had to climb back up the mountain slope to the road.
The last of his crew — in two pick-ups — were following Bremner prior to the crash, and were trailing by about 20 km, he says.
"I had to get back up to the road as fast as I could, or I was going to be left out there all by myself," says Bremner, who no longer had any way to contact his crew.
Wet, cold, with one limp arm, he looked up the mountain to pick out a path.
"I would climb up a ways and grab a root. Then I would look up and grab the next piece," he says.
With his hands matching the shade of red seen on the Clusko Logging trucks, Bremner climbed to roughly eight feet below the logging road.
"Just as I got there, the first pick-up came around the corner and his lights shined on my face," says Bremner.
"He saw my face, and I was yelling, so he stopped and pulled me up the last eight feet," he says.
His crew drove him to the Valemount Clinic, where Bremner even managed to walk into the clinic under his own power. It took an hour to warm Bremner up to the point of no longer shivering, and he was then sent to McBride for further testing.
"The strength I felt I had through the ordeal, I felt like Superman, in a way," says Bremner.
"To go underwater, get out of the truck, swim to the surface, swim to shore, climb the mountain, and all in time to find the crew, etc., pictures do no justice," he says.
"They found I have a third-degree separated shoulder, cuts in the back of my head and frostbite on my fingers, but that was basically it," says Bremner, pointing out how lucky he actually is.
With doctors having no reason to keep him the following morning, Bremner says all he wanted to do was get home to see his family.
One day after his life changing accident, Bremner's brothers — Troy and Jared — drove him from McBride to Clearwater, and then Clearwater to Kelowna.
With a brief stop in Clearwater, Bremner says he also managed to see his parents.
"I was very happy to see my parents soon after the crash," says Bremner. "I'm really close to my family, and I love them very much."
Finally, he arrived home to be with his wife and two kids.
"I got home just in time to give my family a big hug and say I love them, stuff like that. We had enough time to grab a quick bite," says Bremner.
"Then I went to my boy's Christmas concert. That's all I wanted to do.
"I loved being there, and so did my wife and daughter. Seeing how happy my son was that I made it to the concert, it made me happy that I fought so hard and didn't give up," he says.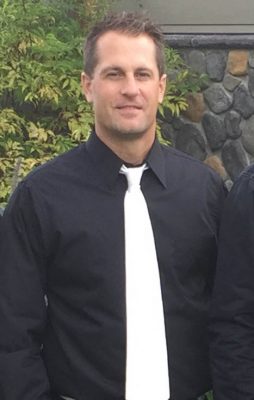 In the weeks since the accident, Bremner says not a day goes by
without him having to think about the accident, but it's changed his perspective on life. The simple things are the most enjoyable, he says.
"My boy loves tacos on Tuesday nights. Taco Tuesdays," says Bremner.
"Having my first taco with my family never tasted so good."