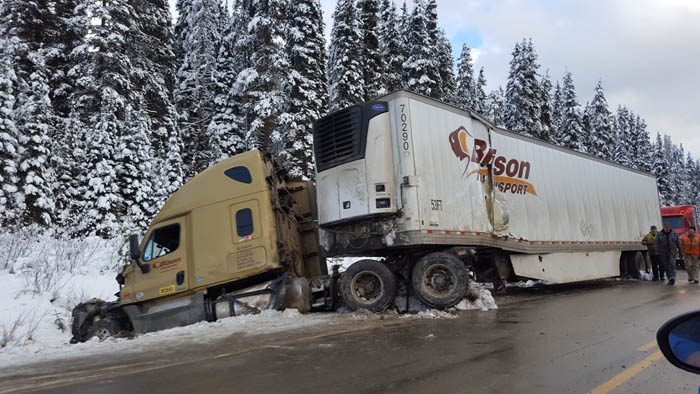 RCMP report, more collisions
In an effort to better keep the community informed the Robson Valley Regional RCMP will be providing weekly press releases to the local papers. The list is not inclusive of all calls of service the local RCMP detachments receive, but provides a cross section of what is happening in the Robson Valley.
Nov. 29: McBride RCMP attended a single vehicle collision on Hwy 16 near Goat River. The driver, a 61-year-old Alberta male lost control on icy roads and hit the ditch. He was issued a violation ticket for speed relative to conditions.
Nov. 30: McBride RCMP attended a single vehicle collision on Hwy 16 near Purden Lake. A driver had pulled too far over to the let a semi pass and got pulled into the snow bank. Neither the vehicle not driver was injured. The female had been reported missing by her family in Alberta who were now on route to help her.
Nov. 30: McBride RCMP received information that a youth had overdosed the previous night and was transported to PG for treatment. MCFD was advised and the matter is still under investigation.
Dec. 1: Valemount RCMP attended a single collision on Hwy 6 near Red Pass after an east bound tractor trailer lost control on icy roads and did a 180 into the west bound ditch. A witness confirmed the truck was only travelling at 70 km/h which still proved too fast for road conditions. The driver was not injured.
Dec. 2: Valemount RCMP received a report of two people sleeping inside the A&W. The two Alberta residents advised they were travelling to Clearwater when their truck broke down near Alberta. Later that morning a stolen truck was recovered near Overlander Falls. Items seized from the vehicle were seized for fingerprinting as police suspect these individuals are connected to the truck.
Dec. 2: Valemount RCMP received a report of a disturbance at a local motel after two males were involved in an argument that resulted in one male throwing a snowball and striking the other in the face. Police are not pursuing charges based on the victim's wishes.
Dec.: 2 Valemount RCMP attended a single vehicle collision on Hwy 5 near Blackman Rd after a tractor trailer went off-road after evasive manoeuvres to avoid a deer. The driver was not injured.
Dec. 3: Valemount and McBride RCMP participated in the National Impaired Driving campaign. Over 200 vehicles were checked at road blocks throughout the evening in multiple locations resulting in one impaired river being charged with a 90 day road side prohibition and another being charged with driving while prohibited. Several other violation tickets were also written for other offences under the Motor Vehicle Act. Police will be conducting several more road checks as we approach the Christmas party season. Please arrange for a designated driver at the start of your evening.
Dec. 3: Valemount RCMP attended a single vehicle collision on Hwy 16 near Spittal Creek after a pick-up. The driver lost control after a tractor trailer went by him in the opposite direction kicking up heavy slush. The driver was uninjured despite the truck rolling twice.
Police have been attending multiple collisions over the past week and would like to remind the motoring public to ensure that you have on winter rated tires with a minimum of 3 mm of tread and to slow down allowing yourself extra time to get to your destination. Additional winter driving tips and ideas of what supplies to carry with you can be found on ICBC's website. When travelling in winter months, be sure someone knows your route and when to expect you.
Multiple phone scams continue to be of major concern throughout B.C. Fraudsters claim to be Revenue Canada, Police, Computer Repair Suppliers, or representatives from other reputable companies. None of these agencies solicit funds via phone or accept payment via gift cards or Apple cards. One of the most recent scams is a fake photo radar ticket that comes in the mail. If you are unsure if a ticket is legitimate please bring it down to the police station for review. Never give out your personal information over the phone unless you have initiated the call with a company or organization that you know and deal with.