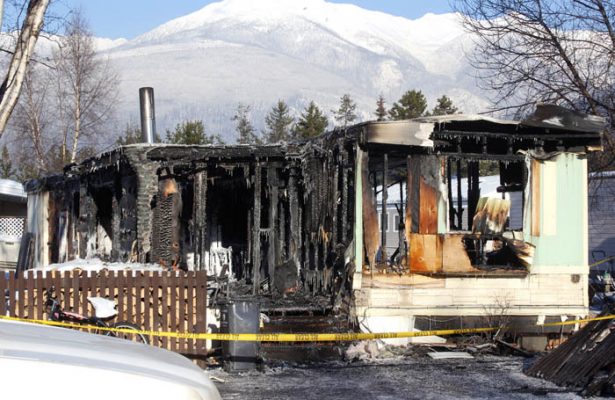 After a tragic fire has claimed the life of a child in Valemount, the community has rallied together to support the family.
Fire crews responded to a blaze at the Meek-Olson household just after 10 p.m. Dec. 6th in Hartman Trailer Park, North District RCMP Corporal Madonna Saunderson says.
The blaze "fully engulfed the home," she said.
There were three people inside, according to RCMP, including father Clint Meek, and his two sons Landon and Dominic.
One child, identified by RCMP as 16-month-old, Dominic Meek, did not survive.
Clint and Landon suffered second-degree burns and were sent to the burn unit in Vancouver by helicopter for treatment.
"It's going to be a very long road for Clint, and it breaks my heart every time I think about it… He was burnt pretty badly," says Alicia Olson, who is the sister of Clint's wife, Allison.
"I don't want to give out false facts, but he will need Skin Grafts…  Landon is doing okay. He has ups and downs, but they're taking really good care of him," she says.
The mother, Allison Olson and daughter, Samara, also lived in the home, but were not inside at the time of the fire. Allison has been in Vancouver with Clint and Landon for duration of their stay in hospital.
RCMP has ruled out foul play and has passed off to the case to the B.C. Fire Commission.
The Office of the fire Commissioner has identified the area of fire origin being near a wood-burning appliance — a wood stove — noting a possible cause may have been storage of combustible materials near the wood burning stove.
"I don't even know what the family needs right now," – Alicia Olson, sister of Allison
Neighbours described the incident as being surprisingly quiet, given the tragic consequences to follow.
Some witnesses claimed to hear sirens, however, the sound was quickly silenced. One neighbour said she didn't hear anything at all until the following morning, saying, "I don't even know how it's possible".
Other neighbours said they looked out their window shortly after 10 PM, and emergency crews were already on scene, as the flames licked the trees and hydro wires above.
Donations are being made to the family during what can only be described as a tragic time, as Olson is helping to coordinate many of the efforts.
"I don't even know what the family needs right now," says Olson, who says the family has been so overwhelmed that they haven't even had time to go through a lot of the donations.
"Mainly right now is getting enough money to cover medical bills… I'm sure there's going to be quite a bit of those," she says.
Though the family isn't sure of what medical bills they'll be financially liable for, Olson says travel costs – among others – have been expensive.
A bank account has been set up through CIBC, according to Olson, and money transfers can be done from any CIBC location.
As an alternative to the CIBC account, two GoFundMe accounts have been set up in the family's name, one by a family member, which has raised $600 to date, and another by a family friend, which has raised over $10,000 so far.
"The support has been mind-blowing," says Olson. "People just come together and take action so quickly… I honestly don't even know what to think or say.
"We're so grateful," she says.
Clothes are also being accepted, too, as the family is in need of a girl's size seven and a boy's size two or three.
For those looking for more specific instructions to donate, email [email protected].
While no definitive plan is in place to house the family, Olson says they haven't gotten that far in planning, as the family is focusing on things hour by hour.
"We'll support them however we can."
7 tips to reduce household fires
Submitted by the B.C. FIRE COMMISSION
Have a professional install your wood-burning appliance, particularly for the purpose of being sure the clearance between the stove and combustibles is adequate. Wood stoves should be safety tested and bear a label from a recognized authority such as a testing lab (ULC, CSA). Non tested stoves require a minimum clearance to combustibles of 91.5cm or 36". (Includes things like drapes, combustible walls, carpets, stored firewood and papers)
Wood stoves should always be placed on a fire-resistant, non-combustible base.
Have a professional inspect your chimney at least annually.
Burn only wood that has been properly dried or seasoned.
Safely dispose of ashes. A metal container with a lid should be used, and it should not be placed on a combustible surface or, for instance, on the back porch. Place the ashes away from the home, to give them adequate time to completely cool.
Keep a fire extinguisher in a central location known to all household members. Be certain that it is in good working order and that everyone knows how to operate it.
Make sure smoke alarms and carbon monoxide detectors are installed in the proper locations in your home, and test them regularly.