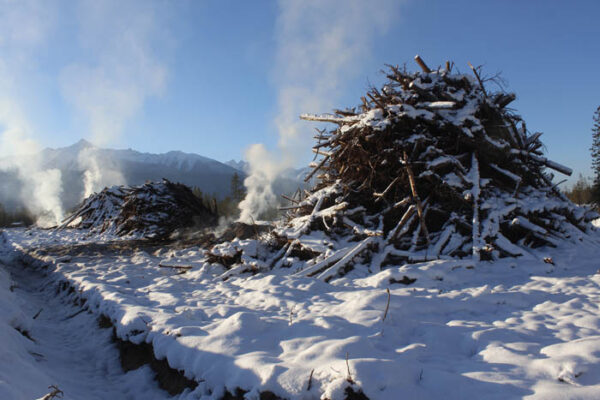 by LAURA KEIL
As Valemount residents warmed their toes by the fire and tucked themselves in under blankets during the past week's cold snap, they were tucked into something else as well – a smog that led to the longest air quality advisory in Valemount in years.
The Ministry of Environment in collaboration with Northern Health issued an Air Quality Advisory Dec. 7th due to high concentrations of fine particulates. The advisory lasted six days until Dec. 12th, though the air quality was still above the provincial air quality objective that day. Shortly after rescinding the advisory, it was re-issued and was ongoing as of presstime Dec. 13th.
Fine particulates are tiny particles that are dangerous due to the way they can get stuck in your lungs and even work their way into your bloodstream, according to the U.S. Environmental Protection Agency. The evidence shows adverse effects of particulate matter following both short-term and long-term exposures, according to the World Health Organization.
Last Wednesday, the Village of Valemount revoked the Burning Permit for a slash burning operation in Village limits, but particulate levels remained high. Cold temperatures likely led homeowners to crank their stoves while a high-pressure system kept the smoke hovering over the village.
The air quality — at its worst — was listed as hazardous. The air was nearly twice as bad as Beijing's Dec. 7th.
Though many locals have expressed frustration and health concerns due to the air quality, Spokesperson for Northern Health, Eryn Collins, says the Valemount Clinic hasn't experienced an influx of patients, nor has it seen a rise in patients reporting respiratory issues due to air quality.
Gail Roth, Air Quality Meteorologist for the region, which includes Valemount, says the concentrations are similar to what is experienced by communities affected by forest fire smoke. She said a high-pressure system was moving through which means the poor air quality was slow disperse.
Air quality data obtained from the Ministry of Environment shows there were 37 days in Valemount between Dec. 2015 and Dec. 2016 when the concentrations of particulate matter 2.5 was above the air quality objective of 25ppm.
During the week of Dec. 6th to 12th, there were 48 individual hours that had concentrations above 100ppm – five times the objective. 15 hours had concentrations above 299 – 12 times the objective.
The data also shows that yearly concentrations of 2.5 particulate matter are above the yearly guidelines by the World Health Organization. Valemount's yearly concentration this past year was 12ppm, above the guideline of 10ppm.
The particulate matter was the worst during night when temperatures drop and people stock their stoves, with air quality often improving during the day.
Advisories not always issued
Roth says the Ministry doesn't always issue air quality advisories when the air quality becomes hazardous. This is due in part to the cyclical nature of the air quality – worse at night, improving during the day. But she also says air quality advisories lose their effectiveness if they are issued all the time.
"Often in the case of Valemount we may hit those advisory conditions during those hours but we won't issue an advisory because, with the exception of those morning hours, the concentrations are low and it happens very frequently – so the usefulness of the advisory loses its power if you're issuing them every day."
She says the intention of the advisory is to point out a substantial problem where action should be made to reduce particulate.
The Goat asked Roth if having high concentrations every day wouldn't be considered a "substantial problem."
"It is a problem. It still is particulate pollution. I'm not sure an advisory every day would change anything."
Improving the air quality
Roth says municipalities can regulate wood burning. Golden is an example of a community that has outlawed wood fireplaces in new buildings and homes, though old homes are grandfathered in.
Other municipalities require that all wood-burning fireplaces and stoves meet Canadian Safety Association standards.
Valemount has previously been eligible for woodstove exchange program funding from the Province, but the Village must apply for funding. No exchange program was advertised in the past couple years.
Roth acknowledges that in many rural areas, especially northern ones, wood burning is a lifestyle, especially for those with low incomes.
But how a person burns wood is often as important as how much. Seasoned dry wood emits far less pollution than green or wet wood, for instance.
Slash burning blamed
Locals took to social media to blame the burning slash piles at 202 Ash for their part in the smog last week. In August 2015, the owners of the 65-acre property at 202 Ash logged the property and stacked the wood debris into slash piles.
Nearby residents say the slash piles were first lit on Friday and have been burning since then, despite provincial regulations that limit burning in municipalities to 72 hours and the local bylaw limiting prohibiting burning between 1 AM and 7 AM.
The smoke control forecast (venting index) issued by Environment Canada has been rated as poor for McBride (the closest location to Valemount) for the past five days. Provincial regulations say the Venting Index must rated "good" on the day a burn is started and forecast to be "good" or "fair" on the following day.
A person who contravenes the Open Burning Smoke Control Regulation is liable on conviction to a fine of up to $200,000.
The air quality — at its worst — was listed as hazardous. The air was nearly twice as bad as Beijing's Dec. 7th.
Municipal regulations like Village bylaws can be more restrictive but not less, says Rory Smith conservation office service for Omineca region in PG sergeant covering Valemount.
The Village of Valemount Open Air Burning Bylaw states that "Burn piles shall only be ignited when weather conditions are favourable to burn (ie: wind, venting Index- see section 6.4, 6.6)."
The bylaw further states that "No person shall burn material in any manner which; a. Produces heavy or toxic smoke and/or fly ash which endangers the health, safety or welfare of persons or animals; or, b. Causes smoke to obscure visibility and thereby creates a hazard to the public at large, or traffic on a public roadway; or, c. Creates a nuisance to those in the area."
If people are concerned someone is not in compliance they can call the RAPP line (Report All Poachers and Polluters) at 1-877-952-7277 or dial #7277 from a cell phone.
Smith says because no compliance officer is in Valemount, his office depends on the public to bring compliance issues to their attention. He says if formal complaints are made to the RAPP line, they would then investigate.
He says the Goat's inquiry was the first his office had heard of the situation.
The Village of Valemount which issued a burn permit to the 202 Ash property owners did not immediately respond to the Goat's questions, but released a statement and air quality advisory on Dec. 7th that said:
"Air quality is particularly bad because of slash burning within the Village. The Burning Permit for this operation has been cancelled, and the Village is working with the applicant to reduce the smoke. All other valid burning permits have been cancelled for now until the weather and air quality has improved. Additional wood smoke is being generated by stores and fireplaces as the cold weather continues."
The statement was signed by acting mayor Hollie Blanchette.
The advisory says people with chronic medical conditions should postpone strenuous exercise until the advisory is lifted. Staying indoors and in air conditioned spaces helps to reduce fine particulate exposure. Exposure is particularly a concern for infants, the elderly and those who have diabetes, and lung or heart disease.
For more information on current air quality, see: www.bcairquality.ca.
Tips to reduce your personal health risk
• Avoid roads with heavy vehicle traffic and areas with wood smoke.
• Continue to control medical conditions such as asthma, chronic respiratory disease and heart failure. If symptoms continue to be bothersome, seek medical attention.
• Maintaining good overall health is a good way to reduce health risks resulting from short-term exposure to air pollution.
• Use common sense regarding outdoor physical activity – if your breathing becomes difficult or uncomfortable, stop or reduce the activity.
Additional tips for those with chronic underlying medical conditions:
• Stay indoors, keep windows and doors closed and reduce indoor sources of pollution such as smoking, vacuuming and use of wood stoves
• Run an air cleaner. Some room air cleaners, such as HEPA filters, can help reduce indoor particulate levels provided they are the right size for your home and filters are changed regularly.
• Take shelter in air-conditioned buildings which have large indoor volumes and limited entry of outdoor air.
Voluntary Emission Reduction Actions
• Where wood stoves or fireplaces are the sole source of residential heat, burn well-cured wood, and ensure an adequate supply of combustion air.
• Avoid backyard burning and any open debris burning.
• Reduce the use and idling of vehicles.
Additional Information
• Fine particulate (PM2.5) concentrations currently exceed the provincial air quality objective of 25 micrograms per cubic metre, averaged over 24 hours.
• Sources of fine particulates contributing to this air quality episode include wood smoke (wood stoves and/or open burning) as well as emissions from transportation sources such as automobiles and truck traffic.
• Real-time air quality information from B.C. communities can be found at: www.bcairquality.ca.