By ANDRU MCCRAKEN & LAURA KEIL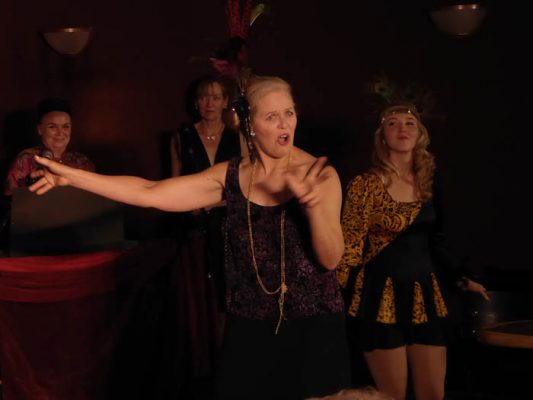 Sharon Stearn's most recent production Minnie and the Mob was like a pride parade on stage. Loud, proud and a lot of fun to watch.
While local Stearns' yearly cabarets often cast men as women and women as men, this year's cross-dressing was more than a way to get a few laughs or solve casting dilemmas. While it made no direct mention of it, this year's play was linked to the rainbow crosswalk debate ongoing in Valemount.
The play didn't seek to start a conversation about the acceptability of being lesbian, gay or transgender, it made a statement: being queer is okay. The play went on to celebrate that for the remaining 45 minutes.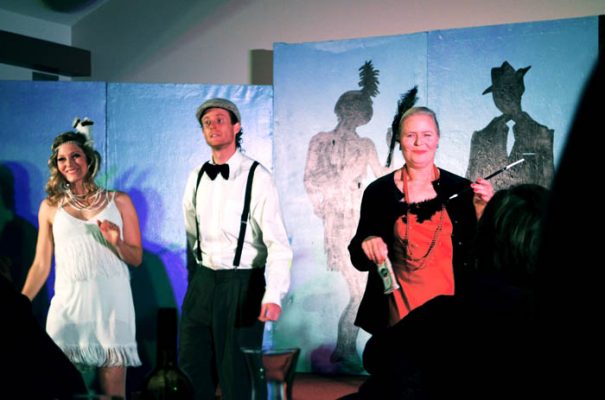 If the play excelled at giving a clear message about sexual orientation then it foundered on race. The play made lots of laughs in the portrayal of Pretty Sidney, an Asian woman disguised as a man. The make-up, garb and accent were a caricature that might have been pulled from the silver screen 60 years ago.
The ensemble cast was both a strength and a weakness: it was great to see both seasoned players like Bob Thompson, Bridget Uhl and Monica Zieper alongside newcomers Jasmine Hoetjes and Taylor Martin. At the same time the huge cast made it difficult to really invest in any one character and follow their story. That said, the characters were vibrant and fun to watch.
T
he choice of venue in both McBride and Valemount was unfortunate as it was difficult to see and hear unless you were at the front of the room. The problem was compounded by soft-spoken actors and fast, complicated lines. Hopefully Stearns can find a venue that works, or build a stage for flat venues because many folks were robbed of a great deal of the script, action and important shorter actors like Isis Hiroe.
Thompson and Uhl had a comical and exciting scene with Taylor Martin's character as "The Surgeon" who was ready to "cut out" immorality, as he wielded a knife on a train. The scene had all the elements of good theatre: tension, duplicity, body acting, clear motivations and lots of facial expression. It was simple and clear and hilarious.
Elise Bressette's character – a woman disguised as a man to hide her love to a woman – sang a heartfelt song about her situation – but her identity was not an integral part of the plot. The song, therefore, lacked impact, since her struggle didn't relate to the thrust of the story. However, in Valemount the song was timely and important. Many audience members chimed in with her during the chorus.
It's clear there's lots of talent in the valley in playwriting, acting, singing, dancing. Minnie and the Mob received a standing ovation.