Hailing from Fergus, Ontario, roughly 80 KMs west of Toronto, 32-year-old Ryan Laird is not a typical Canadian country music star.
From humble beginnings, Laird grew up on a rural farm. Santa gifted him his first guitar when he was just seven-years-old.
"I haven't put it down since," says Laird. "I've always had that dream: I wanted to be a rockstar."
Through his teens, Laird says he began to identify more closely with country music, and started to produce his own independent albums.
And while you'll hear elements of Laird's lifestyle and childhood in his music, he says he knew Ontario wasn't the most likely place for country music success, so he moved to Nashville.
His first order of business was an unusual one: He took out a billboard, asking international country music sensation, Taylor Swift, to sign him to her record label.
"I got calls from record labels after that… It helped get some attention to my website that had my songs on it," says Laird.
"How do you stand out from thousands of other artists with the same dream?" He asks, now knowing one of many possible, however unlikely, answers.
Shortly after, Swift, on live television, admitted she had seen the billboard and checked out his website — even saying she had listened to his music.
"Maybe we can work together some day," she said on Entertainment Tonight.
Swift's endorsement made achieving a record deal and taking the next step in Laird's career more possible, Laird says.
Eventually, Swift's label did in fact sign Laird.
Since then, Laird has won a CCMA and has had a top 10 single on Canadian radio — both of which have furthered his career.
"I was sort of known in the industry for having put up a billboard, but I hadn't had any success on radio," says Laird. "When I put out I'm your man, it really took my career to the next level."
I'm your man led to nominations for the CCMA Video of the Year, as well as a rising star award, so naturally Laird attended the event.
Although signed by Swift's label, he had yet to meet her, but on this night he was sitting four rows behind her.
Swift was at the event because she was nominated for a generation award.
"I went up to her with my hand out to re-introduce myself, thinking she might not remember me — being a small Canadian artist, and her being an international superstar," says Laird through a laugh.
"Before I could say anything, she said, 'Ryan, it's great to finally meet you, and we have a copy of your billboard on the fridge at home,'" he says, adding they took a couple photos together.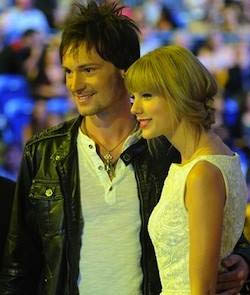 The success of I'm your man, which was written for Laird's brother's wedding, also led to an opportunity to open up for country music legend, Alan Jackson.
Laird will play three times in McBride this Friday, Oct. 28.
The first show will be early in the day at the elementary school, as Laird says he's doing a presentation for the kids, too. A slightly different presentation will be given to the kids at the secondary school in the afternoon, he says.
"I'm going to talk to them about the importance of chasing their dreams," says Laird. "I'm going to try and inspire them through my story… No matter what it is they want to do."
Though inspiration is a main theme in Laird's music, he says it's not the exclusive theme, and he uses his voice to motivate people to follow their own calling.
"It sounds simple, but never give up," says Laird. "It's concise, but it's powerful. Just keep pushing and keep trying."
A show — open to everyone — will happen at 7 PM at the secondary school's theatre. Tickets are available for $20 at Robson Valley Essentials.